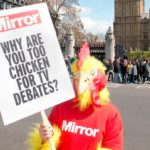 Maybe it's just me, but without manifestos and final decisions on runners and riders, the election campaign still feels like a phoney war.
Jeremy Corbyn made the first big speech of the campaign today, presenting himself as the anti-Establishment voice, the scourge of Sir Shifty (to give him his formal, tabloid monicker) and other successful rich people. It seems like a reasonable play by Jeremy as Theresa May has already bagged the "safe and dependable" label – "the leader you can trust". Corbs has no cards to play in that game, so he has to make a grab for a quite different part of the electoral anatomy. The insurgency soapbox is getting crowded though, and he has to share it with Tim and the Libs, UKIP, the Greens and the SNP.
The years are ganging up on me. One of those significant birthdays pops up this year, so I should attempt a last hurrah; a final bout against Old Father Time and his wingèd chariot.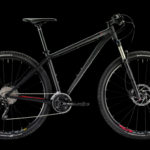 The idea of aiming for another marathon toyed with me, probably based on the adage that there's no fool like an old fool — particularly where I'm involved. But last time I tried that, Berlin 2013, I ended up in a Zurich hospital, writhing on a padded table like a trapped snake, as an exasperated doctor and nurse tried to restrain me long enough to inject steroids into a couple of collapsed vertebrae.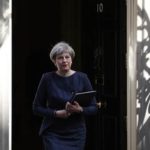 A message arrived from a friend this afternoon, asking: "Thoughts on today's news?"
Eh? What news? I normally spend lunchtimes feeding on a variety of online news sources, but today of all days, I missed this important duty. In those feverish moments before I was able to reach the BBC website, a number of possibilities tumbled through my head, led by the thought that North Korea had dispatched a few missiles across the border into central Seoul, triggering the start of some Asian Armageddon. Within the kaleidoscope of options, a British general election announcement was nowhere to be seen, so I suppose it can be counted as some other type of bombshell.
---
Today, 30 July 2016, is the 50th anniversary of England's finest football moment.
---
I was born in 1957, and until I found the trapdoor to adulthood, and escaped to university in the late seventies, lived in a dull London suburb called Wembley.
London's under-10s were too young to appreciate the Swinging Sixties, but we didn't mind. We had more pressing concerns, like scrambling round crumbling bomb sites and being chased down empty streets by aggrieved, fist-waving adults barking dark threats to take us "down the station." My personal list of approved recreational options included perhaps the greatest playground of all – Wembley Stadium. The old place stood right across the road from my primary school, St Joseph's. Those famous twin towers were a fine backdrop to our 30-a-side break-time football matches, contested with a balding tennis ball on the sloping asphalt playground.
You can't beat a good run. From my 2009 race report on the Maidenhead 10 miler:
The main excitement occurred when we were being directed from the main road onto the rural path through the fields of rapeseed and broccoli. Guess who the marshal was? Yes, I'm convinced it was Theresa May, togged up in smart yellow plastic. As I followed her instructions, I wondered…  what sort of metaphor was this? To be herded from the long straight road onto the bumpy farm track by a leading politician…
Finally, seven years later, as Theresa May becomes the new prime minister I know what sort of metaphor it was. Her task is to marshal us along the bumpy farm track of Brexit. The metaphor breaks down if we liken our EU membership to a "long straight road" but let's not be too literal.
I've voted in favour of the UK leaving the European Union. I don't expect this post to persuade any waverers, but for the record, here is my thinking, and some of the reasons for my decision.
I love Europe, and strongly identify with it. I live and work in mainland Europe; I spend much of my free time travelling round it, enjoying the history and culture of its different nations and cities, the natural beauty of its countryside, and the infinite variety of its cuisine and its wines.
But just because I love the continent, doesn't mean that I must love the EU, the artificial and quite chaotically undemocratic behemoth that controls much of it. The overbearing political, economic and social vision was conceived, and continues to be developed by, people we don't know, didn't elect, and cannot influence. The appeal to remain and "reform from within" is hopeless and desperate. It's our failure to make a dent in EU policy that has caused such a shrivelling in support for it.
So let's get that clearly on the table – that disliking the EU is not the same as disliking Europe and the countries within. They are totally separate.
I don't understand the trade argument. I see no reason why the UK can't continue to import wine from France, Italy and Spain, and cars from Germany. Will the producers of these fine commodities really want to increase their prices to us? And why would the EU nations want to pay more for their Scotch, oil and pharma products from the UK? In any case, the market is already rigged. It's almost impossible to find decent British sausages and cheeses in France or anywhere else in mainland Europe, presumably a result of effective lobbying by certain vested interests. There are more than 30,000 professional commercial lobbyists in Brussels and Strasbourg, and they wouldn't be there if they weren't doing their jobs well enough.
Much is made of the EU being a club, and social media is full of tortured metaphors playing on this idea. We're a bunch of lads wanting to leave at midnight to find somewhere better, but realising nowhere else is open, we can't get back in. Or it's some genteel gentleman's club, and we are the embarrassingly unruly members suddenly refusing to wear the right bow-tie.
But the EU in 2016 is not anything I'd recognise as a club, or not one that I would want to join. Back in 1973, it was a different story. The proposal was to team up with five major European economies — Germany, France, Italy, Belgium and the Netherlands – plus Luxembourg, to form a 'Common Market'. With roughly the same GDP levels and political outlook, the European Community, as we were benignly called, would be a band of high-fiving brothers promising little more than no trade barriers in a pre-globalisation world of high tariffs. Into the bargain, we could motor round each other's manors and be waved across borders by smiling policemen. Most people could have lived with that arrangement indefinitely, but sadly, all that remains of that distant dream is the crunch of broken glass beneath our regulation issue, one-size only, EU prison boots.
What happened to our little club? Well, what happened to our little club was that the committee got ideas above itself, and decided to reinvent itself as a government, and one remote from its members. We've had a succession of far-reaching treaties that we've not even been allowed to vote through. They have taken the original Treaty of Rome's note about "ever closer union" and interpreted that as an invitation to create a legally binding federation of quasi-independent states under the supervision of the unelected EU Commission.
So we have the creation of the Eurozone / single currency, the supremacy of the European courts, the legislative superiority of the European Parliament (itself little more than a rubber stamp for the Commission), the regulatory tentacles that spread into every corner of our national lives, and soon, we are told, the joint European military force, as just some examples of how the original loose arrangement of homogeneous NW European nations has become a grotesquely corrupt, anti-democratic and over-powerful entity. And that original club of six (or nine when we joined)? We have instead a wild expansion to 28 countries, with several more waiting impatiently in the wings. And who can blame these economic tiddlers for wanting to join up and take advantage of the benefits provided by the more successful countries?
If this is a club, it is not the club that we joined back in the seventies. I prefer to think of the EU as that other sort of club – a cudgel that is beating the face of the common man into a bloody pulp. I ask this simple question: if we were thinking of joining the European Union for the first time NOW, would we do so? Would we hell!
What isn't discussed much is the growing anti-EU sentiment around the rest of Europe. Advocates of a Remain vote seem to think that we are somehow disgracing ourselves; making a fool of ourselves in public; being typically boorish Brits. But UK Leavers are simply reflecting a wider malaise found across Europe. The French exhibit even less support than we do for the EU. A recent poll had only 38% of the French approving of EU membership. Nearly all major members struggle to get above 50% approval. I have work colleagues who tell me that they hope for a Brexit vote in the hope that it will increase pressure on their governments to hold their own referendum.
The reality is that the EU is a terrible failure but our leaders and other vested interests are incapable of admitting it. We are, by some distance, the least healthy economic zone on the planet (apart from Antarctica, apparently). We would be better off doing what normal countries do: happily trading with each other in open competition with everyone else, and having all sorts of mutually beneficial agreements on, for instance, environmental issues, anti-terrorism / serious crime intelligence sharing, accords on aviation, reciprocal mobile phone charges, and so on. We don't need to erect some massive supranational political, fiscal and legal institution to administer them. Naturally enough the EU sets its own pay scales and benefits for its tens of thousands of very generously rewarded employees. Their principal task seems to be self-preservation at all costs, especially as those costs will be borne by others.
Why can't we concede that the EU is a flop? It seems to me that the Remain side have persuaded many, particularly the young, that wanting to exist outside the EU, in the way that around 150 other nations manage to do, mostly very successfully, is an unnatural desire. That to leave the EU and join the rest of the world is somehow isolationist, when it is precisely the opposite: it is internationalist. It's a move that rejects the political navel-gazing insularity of the EU and opens us up to the world. So I say this: instead of remaining with the gang of 27, let's rediscover the wider and warmer embrace of the 150+ club. There are more of them, so you're more likely to find someone you fancy, and they'll hug you for free, unlike the garlicky chaps across the Channel who insist on you opening your wallet first.
The young have been persuaded that to vote to remain in the EU is like voting to Make Love Not War. It's a sentimental and deeply cynical tactic. "Why can't we all just get along?" Are our major economic and political institutions really such softies? You decide.
I regard it as a dishonest argument, in the same way that wanting to adopt the global standard approach to immigration, namely employing some sort of pre-set criteria to help determine eligibility, is presented as "racist and xenophobic". It's equally false. Were that the case, almost every nation on the planet would have to be described in those terms. It's common practice and common sense to say: let's have immigration for sure, but on our own terms, and in alignment with planned expansion in public services and housing provision.
What will the result be? I suspect we have enough collective national idiocy to vote Remain by a narrow margin, and spend the next few chaotic years bitterly wishing we had taken the chance to escape while we had it. But we are likely to be inside the tower as it collapses, instead of being the horrified spectator outside, watching so many friends turn to dust.
Finally, I keep seeing the desperate argument that asks: do you really want a Brexit that would produce a government formed from the likes of Boris and Gove, with Lord Farage of Dover in the background? Well firstly, I'm confident that Boris Johnson will not be the next leader of the Tories. My tip is Theresa May who seems to have played a suspiciously clever game during this campaign by managing to straddle both sides of the argument at once. She would present herself as the unity candidate, and with some credibility.
More important, this is not about personalities but principles. It's not a Big Brother eviction. And even if it were, I can't see that Messrs Cameron, Osborne, Blair, Miliband, Clegg, Mandelson, et al, have much more to commend them than the other lot. Let's be honest. If we are thrown out of the club, who would you rather be out on the town with, looking for a late-night lock-in? Boris and Nigel? Or Osborne and Clegg?
I rest my case.
Someone I admired early in my plodding career was Julie Welch, whose resignedly matter-of-fact tale of the London Marathon, 26.2, I found strangely inspiring. Her piece on the Serpies website still brings a distant sheen to the old eyeballs, ten years after I last read it. The lachrymosity is part nostalgia, part melancholy, part euphoria, and part Chianti.
Her post-running life has been somewhat pedestrian: she became a long distance walker. Some ex-runners crank up the heart rate with cycling, or slope off to the piste. Others, unable to cope with the indignity of retirement, retreat to the potting shed with a half bottle of vodka concealed inside their Daily Express.
Me? As mentioned in my last, somewhat distant post, I bought a rowing machine — and even used it for a while. Then came a throbbing ankle, a rattling knee, and an insatiable curiosity to learn how the old flame of fine Tuscan wine had been getting on without me. It didn't take long to get our knickers off again. We consumed each other across the summer and through the autumn, until I got fed up again and negotiated a bleak midwinter ceasefire.
The timing, just after Christmas, wasn't ideal. My 1,000 kilometre drive back from London had a tantalising soundtrack — the comforting clink of a dozen corking Aussie wines. Included were six Domaine A Cabernets (2000 vintage), bought seven or eight years earlier, and kept in storage. Shortly after getting these beauts home, the rapprochement became just too cordial again — an irony it's hard to out-think.
In March, the fog lifted from the lake and the snow began to melt, exposing another desire to get exercising without these self-inflicted complications. It's been a good couple of months; so good that I appear to have pledged a trip to Almeria in 2017 for the Medio Maraton weekend. It may be flapping slightly in the weedy breeze of apathy, but the manifesto is still there, nailed to the cathedral door.
The 21 kms of the Almeria Half stretch further than my reach these days, and I'm struggling to even see the 9K start line, let alone the finish. These trusty old running goggles with their deep rose tint are still in service, but worn at an increasingly jaunty angle.
So.
Erg.
Yes. Erg. This is a new word for me, and one with a satisfyingly quasi-onomatoepic quality, reflecting the sound I made, internally at least, when it appeared on my doorstep: the point at which I realised there was no going back.
For a three-letter word it packs quite a complicated linguistic punch, but I'll stick with the job in hand. To the red-faced, bulging-eyeballed cognoscenti, an erg is an indoor rowing machine, and I now own one. Here's why.
My London Marathon attempt fizzled out in a puddle of sloth, pessimisim and demotivation that grew with my list of nostalgic injuries: calf muscles, whiney left knee, back pain. It was the last of those — the lower-back twinges — that frightened me off. I can live with sore calf muscles, but the fear of re-living the pain of that post-Berlin herniated disk was enough.
After the brief initial sense of relief, and the fun of recreating abandoned high-calorie friendships, I settled in for a winter of discontent and deflation. London in April 2015 would have been the ideal way to bow out of distance plodding, but it wasn't going to happen.
It's given me a strange few months, bouncing between conflicting sensations of liberation and claustrophobia – made exponentially more complex by realising that captivity can be liberating while sudden liberation can, equally, be a trap. Once or twice I thought I might be veering nutswards, but I've dismissed that intriguing possibility, and instead, rightly or not, decided that having no plodding destination is the root of my slump.
Nothing is quite as simple as this, of course, but I'm sure that no running is part of the problem, and is therefore a part of the solution.
Except, instead of running, I'm rowing.
More later.
The previous entry was a circuitous way of reporting a little enforced downtime. One lives and learns, as last week's painful, swollen ankle could attest. The lesson? That high-speed IKEA shopping and MBT footwear are not perfect partners.
A less specific refresher lesson in imperfect pairings was the one featuring increasing age and injuries. My period of pre-training training is an acknowledgment that I'd at least thought about this one, though I suppose I'll now have to think about it some more. This time I was let off with a warning: the damage seems to have repaired itself. And I have the consolation of a length of MDF and some kitchen implements to admire briefly before their inevitable archiving.
In the intervening period I didn't do much beyond a spot of light local walking, once the swelling had receded. Instead of athletic endeavour, I took the opportunity to grab a long weekend in Blighty, the highlight of which was a visit to Lewes, the celebrated manor of RC's very own running messiah – the revered @sweder — to comfort myself with the knowledge that other people have far more impressive injuries than me.
The ostensible purpose of the trip was a Moyleman update, but this somehow dissolved into a sort of watermark in the distant background of the real-life menu. The afternoon's preliminary bonne bouche was a graphic update on the knee injury, before moving onto the starter: a most enjoyable couple of hours in the Limetree, a restaurant whose beautifully executed dishes belie its modest appearance and ascetic furnishings. I mentioned to my wife that the rough-and-ready tables and chairs could do with a new lick of paint and was advised that the mottled effect I was complaining about is likely to have taken a team of designers and artisans several days to achieve.
The day's main course was a visit to the legendary Dripping Pan, home of Lewes F.C., though on this occasion the stage was reserved for Lewes Ladies vs Plymouth. I'd tagged along with a certain reluctance as my only experience of women's football, several years ago, had been akin to watching a pack of kids chasing the ball around the pitch and failing to connect foot with ball to any obvious effect. 
Something has changed, though I'm not sure if it's the quality of the play or my willingness to attack a cemented prejudice. Whatever it was, I came away with a greater appreciation for the skill, endeavour and passion I'd witnessed. We spent a while in the new beach-hut hospitality boxes before I took up a position behind the goal, marvelling at (and being slightly scared by) the stream-of-consciousness 'advice' being dispensed by the Lewes goalie to her team mates, whose efforts were evidently unable to quite match her high demands. I then made my way round to the grandstand to witness the versatile Sweder hard at work on Twitter commentary duty, gleefully reporting the local side's 2-0 victory. 
It took a while to get away, as local custom meant I had to be introduced to every member of the footballing congregation. Well, all bar the one I had most interest in. As he stood surveying the emptying pitch, like a triumphant William the Conqueror peering across the South Downs on that victorious afternoon, 948 years earlier, Sweder pointed to a man munching a sandwich on the far terrace. "And that chap over there… see 'im? ….he's the bloke who does the voiceovers on Come Dine With Me…"
Dessert was served back at chez Sweder, where a lesser footballing spectacle featuring Sunderland and Manchester United was playing out on Ash's cinematic TV, to the evident fascination of the household's new kitten — the name of which is still being intensively negotiated. Being a dead ringer for Batman, or Batgirl, I wasn't sure why there should be any argument. Cassandra [Cain], surely?. (Pictures to follow, of course, as posting kitten snaps appears to be what the web was invented for.)
As with any weekend trip outside my usual environment, I returned reunited with the couple of pounds I thought I'd managed to discard over the preceding week or so. Now, a few days on, I've possibly re-dispensed with the guilty kilo, though this operation is never as easy or as pleasant as the one deployed to acquire it.
Next time, I will try to stray into running.
Let me apologise in advance to Antonio.
Here's a question you probably won't be able to answer: 'Any other JAM fans out there?"
Ambiguous on a good day, but the capitals add another dimension of uncertainty. If I say that I'm listening to an MP3 called JAM69, you take another step into the darkness, because of the long-defunct Hersham-based, hairless, raucous beat combo of a similar name. In fact, the audio is BBC's Just A Minute, though with arch naughty boy Kenneth Williams in the class of '69,  hardly more refined than the yearnings of dissatisfaction produced by the punky skin'eads of Sham 69.
Anyway, I got thinking about Just A Minute because in a recent episode, the subject was roller coaster, and someone stated that they hated roller coasters, not for the expected reasons for hating roller coasters, but because their existence had bequeathed an awful cliché to the language, robotically reached for by anyone wanting to express a measure of short term variability in their fortunes.
And so I won't describe the last week or so as being in any way similar to those objects previously mentioned. But in less discriminating social circles it would have been a handy metaphor, as the previous seven days had been characterised by features normally likened to the movement of said fairground ride in which ups and downs are experienced in rapid succession. A little while back I was bursting with positive vibes but then Saturday happened which saw me dash off to IKEA to buy a shelf and some kitchen tongs plus an implement for removing fish from frying pans, though only the first of those three items had been on my shopping list, but as it was that particular point in the week it coincided with the start of the new Premier League season, meaning I was in a rush, not that this should have mattered except that I decided to wear my new MBTs, which of course have somewhat silly convex soles designed to stretch the calves a bit and generally separate the contents of the wallet from the foolhardy, a community of which I am a leading light, but back to that large Swedish store, along whose endless, maze like aisles I was tottering with increasing urgency, then panic, worried I'd not be back in time for the beginning of QPR's latest festival of relegation, stopping here and there to collect a long, flat, white piece of MDF and some cuisine utensils, details of which have been already provided, but I did, managing to get past the cashier and into my car and home with ten whole minutes of peace before the match began and so I should have felt relieved and pleased but next morning I woke with a swollen ankle and a pain throbbing through that joint but as I lay in bed considering the pain both in my lower limb and in my recollection of the sporting event I'd witnessed, gloom weighed heavy like a second duvet until I thought, but wait, I have a novel aid or two for cooking with and hang on, what about the egg-decapitation device I purchased in Baden… Wurttemberg not a fortnight past and still in its packaging: a thought that cheered me as I hobbled down the stairs, determined to evaluate the item BZZZZT!!!…we've had item before…. Nooooo, we had items plural…. Yes! He's right, and so…. PHEEEEEEP!!! Hurrah!
Let me apologise retrospectively to Antonio — and heck, everyone else.