I bought a new gadget recently to remove the top from a boiled egg. The packaging urged me to believe that at last, I could say goodbye forever to those ragged-edged, egg fracture blues. How I made it this far in life without owning such a device, or even knowing about it, is a mystery.
Late on Sunday morning, still smarting from the previous day's IKEA 5K, I limped into the kitchen, keen to give this new lifestyle aid a rigorous workout. Two eggs were removed from the fridge and placed on the worktop, where their temperature would rise to a level at which they wouldn't crack in a pan of boiling water. As I gazed at them, I wondered what this temperature might be, and more crucially, how I would know when it was reached.
You can't beat an egg. A few years ago, we, the world, entered a dark period, when eggs were denounced, McCarthy-style, as the food of the devil. The salmonella scare meant we were sure to die if we even looked at one, and even if, by some miracle, we survived long enough to eat one of these time bombs, our fate was sealed by the cholesterol and toxic fats within, deemed to be a one-way ticket to the cardiac ward.
But hang on. A bit later, the same experts must have noticed a decimal point stuck to the sole of someone's shoe. Once restored to its rightful place on the back of the fag packet they'd used for the original calculations, eggs were reclassified as an ambrosia of unparalleled nutritional splendour. If we didn't devour them at every opportunity we would have only ourselves to blame for missing out on the Queen's telegram.
I buy mine from one of the farms I pass on the way home from work. I remember writing about my commute previously, when I first arrived, and was travelling to work by train. I had a fair old gush about the place then, and I feel no different now, though I haven't quite solved the problem of how to sound delighted with my environment without sounding delighted with myself. In that previous post, I see that I referred to another, fondly remembered daily work journey, from Huddersfield to South Manchester. The section through rural West Yorkshire — Honley, Holmfirth, Holme Moss — found fleeting fame recently on Day 2 of the Tour de France. What a journey to work that was, with the road snaking onwards through the northern Peak District, through Glossop and into Cheshire. For an inveterate townie, the chance to stop off at a lofty lay-by en route to the office, and gaze down across some of the greatest open countryside in England, very nearly made that ghastly job worthwhile. The old cliché about it being better to travel than to arrive, was never more true.
The current Swiss commute is much shorter, just 15 minutes or so, regardless of whether I take the motorway or the back route. Both have occasional delays but the rustic option, where I'm forced to tarry only if I get stuck behind a tractor or a farmer driving some cows up the lane, is a more creative environment in which to come up with an excuse for being late. But enforced dawdling is rare. It's mostly a pleasant agricultural meander past the chalet-shaped wooden farmhouses and old barns filled with logs for the winter and trekking tracks marked with their inviting, yellow Wanderweg signposts.
Attached to the gates of most farms are boards to advertise newly harvested seasonal grub. We've been through the inexplicably frenetic Spargel season (asparagus) and are now deep into the berry period. Blueberries, raspberries, blackberries, strawberries and cherries are everywhere. Summer muesli is never complete without a big mixed handful of these local fruits.
The place I usually stop at has clucking hens strutting round the door of the little shop, reassuring me that the eggs will be fresh. The Swiss are not welded to the idea of counting in dozens and half dozens. As in the supermarkets, the two containers on offer here are 10s and 4s. I fill a 10 with the largest eggs I can find on the stack – preferably brown and sort of heavy. While I'm there I'll see what else is on offer. Currently berries, a few varieties of lettuce, apples and pears, spring onions, carrots and spuds. Occasionally kale and chard and broccoli. Tomatoes and mushrooms appeared last week. In the fridge, milk and yogurt from the farm and smoked bacon from a neighbour.  I weigh my produce, listing it on a paper slip which goes into the honesty box along with my money.
Back at the ranch – the metaphorical one — I'm still staring at my eggs, wondering how much crackability remains in them. The problem threatens to dominate my thinking for some time, so I decide on a new plan. My boiled egg gadget would have to wait for its 15 minutes of fame. Instead, I'll go for an omelette.
As I root around for the mushrooms, I notice some mysterious foliage poking through the salad drawer. What's this? Ah yes, the remainder of the Swiss chard I picked up the other day. I used to neglect this vegetable back home, but here I eat it quite a lot, probably because it has the word Swiss in its name. Interestingly though, while we call it Swiss chard in the UK the Swiss call it Krautstiel and the Germans Mangold.
Krautstiel is two meals in one, like fish and chips. The rich, dark green leaf can be wilted like spinach for stir fries and side dishes while the rigid white stems are chopped up and roasted or fried in oil. So that's what I'll do. I'll have a mushroom and Swiss chard stem omelette. The three big stalks are diced and tossed into the pan with a little oil and seasoning and, dammit, a big red onion I just stumbled over. It will take a while for these to soften enough for my omelette so what the heck – I may as well add some thinly sliced carrot, put the lid on the pan and sit on the balcony with my coffee and iPad.
Time passes. It's only when I decide on a second cup of coffee that I remember the pan. Nothing much to worry about, except that the contents are becoming a bit dry, so I chop up a stray red pepper and throw it in along with a couple of tiny, vicious red chillies. To add a little edge I splash in some red wine vinegar and turn the heat up to burn it off. It's now getting sort of porridge-like, which wasn't the idea at all. But who cares? Soon it will all be concealed inside an omelette and no one need ever know. To make it a bit more glutinous we'll add a generous squirt of tomato puree. And where are those mushrooms? Phew. Nearly forgot them. In they go, along with the chard leaves to give it some texture and a tomato or two for colour.
I drink my second coffee and consider my options. Fusilli or spaghetti? Fusilli, I think. Fifteen minutes later, I'm back in the kitchen, ladling my unctuous veggie-napolitana sauce over the Fusilli and grating some Parmesan over it.
Half an hour later, as I'm clearing the debris from the worktop, still transmitting compliments to my inner chef for such a splendid meal, I move the empty pasta packet and spot two eggs sitting there, looking all expectant. Ah yes. Ooops.
The boiled egg that became a big bowl of pasta and sauce.
And this is what my life is like, every bloody day.
Every. Bloody. Day.
Despite the words of his Bobness, don't pity this poor immigrant — even if I do trample through the mud here and there.
Any discombobulation I've felt since arriving, nearly four years ago, has largely evaporated — if it existed at all — but it's a subject I reflect on from time to time. The disorientation of the immigrant is built with big, obvious blocks: new job, social circle, language. Then there's the currency and driving on the wrong side of the road and that lake outside the  window. But the small things make an impact too, like being trusted to get on trains and buses without having your ticket checked, and guiltily noticing that your Swiss colleagues clean their teeth after lunch.
Most of the differences are quaint, at worst, but one or two are nothing less than barbaric cultural outrages. For instance, apart from Zweifel's magnificent mustard crisps, in Switzerland you are hard-pressed to find these delicacies in flavours that are not plain or paprika. (Paprika crisps? How can this be?)
Another oddity is public holidays, which are so deeply embedded in one's culture that a change of scene, with the old familiar dates being swapped for someone else's, seems genuinely weird and unsettling. Mind you, a double helping of enforced time off in August is not something to place on the negative side of the migration balance sheet. Even better when the Kanton you work in is on holiday but the one you live in is not, meaning you can stroll the streets of your town without a care in the world, munching mustard crisps, while your scowling neighbours slink off to work.
Today is one of those days, and I find myself  in the magnificent position of having no deeds to do, no promises to keep. Well, apart from one pretty massive one, namely to dispatch, very belatedly, my annual tax return. Peering through my glass-half-full at the dark grey sky, I'm glad of the shove it offers to get me out of the apartment on such a damp and dreary day.
And so, late in the afternoon, with just 20 minutes or so before the post office shuts, I put on my plodding togs and leave. The rain starts up again as soon as I'm round the corner, giving my downhill step a helpful additional spring.
The lady in the post office looks aghast at the huge envelope I've chosen for my few documents. I try explaining it was the only one I had, and she tries explaining it will cost me two extra francs for being over-sized (the envelope, that is, not me). She then raises two further things — an eyebrow and a roll of sellotape. Ah, good thinking. I must have used at least two francs worth of the stuff to origami the voluminous envelope into the lower price bracket, which doubles my satisfaction.
First task over, I'm off down the steps to the lakeside path, and away. By now it's raining heavily, but it doesn't matter. I brandish the runner's climatic indifference to any passing plasticated person, and cheerfully splosh onwards through the path puddles with the choppy grey lake to my left. Past the posh restaurant that someone said Roger Federer goes to; past the Meilen ferry jetty; past the water polo place through the doors of which, terrible screams can sometimes be heard on winter nights; past the neat little grassy spots with their damp empty benches with dead people's names on. Past all that until I reach the crossing that takes me over the railway tracks near the bottom of the steep hill that I'm going to have to become friendly with — despite our previous difficulties.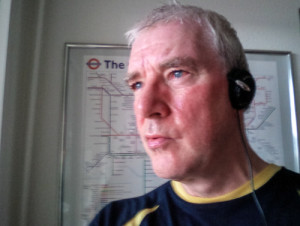 So far, this has been a simple 2:1 run-walk. More of a fat-burning workout than a run. Can I continue it up the hill? The two minutes of near-vertical 'running' are painful, and the minute of walk-totter recovery makes no impression. A few seconds into the second attempted run, I know the game's up, and I have to walk again — but it's all okay. It's one of the privileges of pre-training training. Whatever I may call it, all I'm really doing here is research. I'm recording the baselines and starting a log from which to move when the serious stuff starts. Or the less unserious stuff. I'm building something to offer protection, I tell myself, not testing it to destruction.
The total outing, not counting my discussion with the lady in the post office, was 51 minutes. Good enough. Back in my apartment, out of the storm, I can feel that pleasing post-plod glow begin to take hold. Peering out over the lake, waiting for the sweat to subside before climbing into the shower, I reflect that whatever the country or the environment you run in, this is one sensation that never seems to change.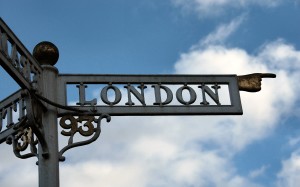 It's been a while, but let's lift the latch and see what blows in.
It's good to be sweating and feeling the heart-rate soar once again. I experienced this at the weekend, when studying my bank statement and working out how much I was paying for the gym that I rarely visit. And so, today, a rather ferocious lunchtime session — my first in a long while. In terms of time, I couldn't afford more than 25 minutes on the cross-trainer and 25 on the treadmill, but it's a start.
Nothing else resembling a run has occurred since the Berlin adventure last September — 317 days ago. It's time to start thinking about the next, and almost certainly the last, marathon – London 2015. I know precisely what you're thinking: that 26 April 2015 is still 258 days away. Well, you would be wrong. It's only 257. (No leap year, suckers.)
We tend to believe, but ignore, best practices in most things – until the hammer of disaster arrives to bang the lesson home. I knew all the advice about good marathon training practices, but was content to ignore it, on the grounds that I was clearly an exception to the norm. Turns out that I wasn't. Or not in this respect, anyway.
Through the several horizontal weeks that followed the post-Berlin herniated disc, I took a few decisions. One was that I couldn't possibly pass up my guaranteed place in the 2015 London Marathon. This was my reward for five consecutive ballot failures. The rule no longer exists, but the organisers did the decent thing and agreed to honour the arrangement for those who'd already donated two or more purgatorial years to the cause. In my case, almost seven years if I include the deferred year and the nine months separating the original entry from the first race. After such a period, the length of which seems designed to encourage the desperate to die or to seek some alternative addiction, I was determined to show up — if only to annoy them.
The second horizontal decision was that I would do it properly next time. Apart from last year, I say this before every marathon: "I'm going to do it properly, and this time I mean it. Core strength and no missed runs." But fine words butter no push-ups. History shows that I've never done it properly. This time, however, is different. This time I'm going to do it properly, and this time I mean it. Core strength and no missed runs.
Which is where those 257 days come in. The standard Higdonian 18-week schedule is less than half that, at 126. But I've only to recall two anguished voices to give me the motivation I need. One is my own, transmitted from a variety of padded tables around Lake Zurich last October/November, as the dutiful teutonic fingers got stuck into my lower back. The other belongs to my wife, who continues to protest that she isn't going to wait on me hand and foot again if it all goes wrong. This was actually one of the few consolations during last year's troubles, but probably not worth the painful admission.
As always, step one on this journey of a thousand miles involves a bit of corporeal decluttering. Being unable to get out of bed last October was a pretty decent excuse for revising my exercise schedule, but during the extended recuperation that followed, I became vigorously lazy. I even stopped walking to the pub, preferring to take the bus down the hill to my usual lakeside hangout – "just in case." My self-administered education in fine wine, full-fat cheeses and paprika crisps blossomed during the period, and I have the physique to prove that I graduated with distinction. Finally, at the end of May, when the baggiest tee-shirts in my wardrobe had shrunk into skin-tight versions, and even the effort of pulling on a pair of socks was producing a sheen of sweat on my forehead, I knew it was time to act.
Different people take different approaches, but for me, alcohol is the key to deblubberisation.  Without it, the desire for trashy food evaporates. Far from being a gloomy duty, I approached it with a sense of relief and excitement.
On the last day of May, a Saturday, we drove over to Basel to visit the fine Tinguely Museum, after which we met up with an ex-colleague for a final, merry evening of beer, vino and traditional Swiss food. It was also the weekend of the annual Basel choral contest, and throughout the meal, we were entertained by spontaneous bursts of heavenly song from rival groups of diners. Conceptually, it was similar to the phenomenon I first encountered in those oppressive Irish boozers along the Kilburn High Road in the mid-70s – an environment admirably reproduced in the early scenes of Withnail & I. As the evenings darkened and the Guinness flowed through the wobbly community, some red-faced fellow would, inevitably, and with insufficient warning, stagger to his hind legs and, using the table to support himself, begin to warble a mournful tribute to his homeland. The quality of these performances was always strikingly poor, by which I mean that the singer would strike you if you complained within earshot. Indeed, "earshot" is quite a suitable word to describe the likely result.
The  choral exuberance experienced in Basel on May 31 was more sonorous, and continued after the meal, when we wandered up through the hilly Altstadt to take in the views. At the top of this small and surprisingly charming city, a large bunch of teenagers were hanging out. Being Switzerland, this is not a cause for concern, and after courteously greeting the oldies as they passed, as kids tend to do in this country, they linked arms and began singing their hearts out once more. It was really quite wonderful, and a memorable way of clambering onto the wagon for a while.
That was 73 days ago, and I'm still rolling along with all wheels intact. I've dispensed with 8% of myself, or 19 pounds (no, you do the maths). I'm happy enough with this progress, but there's a long way to go. The figures in my new spreadsheet are startling. I should be aiming to shed a total of about 25% to get down to something like a roadworthy tonnage.
A smaller circumference and stronger core are prerequisites for a marathon training campaign, and I'm now finally at the level that I ordered myself to reach before venturing back into my plodding shoes. I'm taking a belt-and-braces approach. This isn't a reference to the challenge of holding up my shorts as my waist diminishes, but to the need for minimising the risk of further injury. The plan is to remain broadly faithful to the Chi Running method, but to wrap it in a Galloway run-walk programme for extra insulation. The various Gallowegian plans last 26 weeks, giving me 10 and a half weeks of dither time. But thumb twiddling and desktop finger drumming are not going to assist much, so I'm donating my body to medical research with a period of pre-training training.
This actually started some weeks ago, soon after the farm shop became my new hang out. Early on, I ventured into the hills for a strenuous hike, but very nearly came a cropper on a sun-scorched mountainside when the water ran out. So I scaled back to local outings of varying difficulty on the many gentler hills that surround me here. I've discovered plenty of new paths and possibilities, and with the blubber needle starting to point in the right direction at last, I reckon I'm about ready to get the running shoes on again.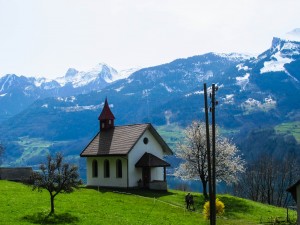 As I glanced at my GPS watch on Saturday afternoon, a moment after it finished recharging, I fancied I heard a snatch of this drifting in through the open balcony door.
The watch was last stopped on September 29 at 15.15pm. It was now March 29 at 15.15, precisely six months — to the minute — since I'd tottered across the finish line in Berlin. Six months since I'd done any exercise worthy of a sports watch. If indeed Berlin had been worthy of such a device: perhaps a calendar would have been more appropriate. After 6 months of strategic ignorance about how long it had taken  me to stumble the 26 miles, yesterday the watch blurted out its shameful secret before I'd the chance to swipe the data into permanent darkness.
The first two months of stasis can be excused. My sick note is pretty solid, stapled to the 4-figure medical bills for MRI scans, spinal cortisone injections and sessions with a beaming German physiotherapist called Martin who talked loudly about Buddhism and Borussia Dortmund in the hope of concealing my agonised sobs from nervous patients waiting their turn in the corridor.
Just as painful as the herniated disc itself was the decision to cancel our trip to Australia to meet up with Mr and Mrs MLCMM and Suzie and Ash, missing the chance of taking part in the near-vertical half marathon that is the Hobart Point to Pinnacle. I tried to seek advice from my local doctor, but he was too busy to see me on the day I'd made it to the surgery. Instead, I chatted to his wife who had been gratifyingly blasé on the subject. "Oh, go if you want", she had advised, with a shrug and slight wave of her hand. "They probably have doctors in Australia in case you wake up paralysed." Then she added: "As long as you are not lifting anything heavy, like a suitcase, you may just be lucky."
I should explain that the rather wonderful Krisztina is also a doctor at the same surgery, and that she had uttered these words with tongue firmly in cheek. I hope she wouldn't have risked offering such a verbal prescription to a non-English chap. Not everyone would have appreciated her wicked gift of irony.
Further implications include the London Marathon 2014 (April) place being deferred to 2015. It means relinquishing a rather cool race number: 1414. The Berlin 2014 (September) place, hastily purchased during the euphoric afterglow of the 2013 event, is starting to look like a wasted investment, though not because it's impossible to get in better shape in the six months available. It coincides with something else I've signed up to, which I may or may not have the courage to reveal at some point. Given my shocking corpulence, and the need to avoid another spinal trap, a better race target would be an autumn half marathon. But for the moment, the only circles on my race calendar are London in April 2015 and The Moyleman, the previous month — though my participation in the latter will be restricted to marshalling duties.
The extended post-Berlin recuperation began with the firm post-marathon tradition of wiping clean my summer pre-race food blacklist. Result? Entirely predictable: 32 pounds of wobbly blubber that hadn't been there on marathon morning. It meant that the symbolic first step on this thousand mile journey towards London 2015, a first decent walk of the season, was much harder than it should have been.

Last year I made a start on the Swiss Panorama walk. The first three legs were written about here while the 4th, from Urnasch to Schwagalp wasn't. But Schwagalp is where I'll take up the baton, and the tale, when I set off again shortly. In the meantime, some limbering up was required.
Unlike my solitary rustic dips last summer, this time I had company, in the shape of a delightful colleague from the UK, working over here for a few weeks. She asked for ideas to entertain a friend on a weekend visit. We've had an unseasonably warm winter here, much to the chagrin of my ski-ing workmates, and with the weekend weather forecast looking more like early summer than early spring, the suggestion had to be a walk. The friend had a plane to catch at 6.30pm, so I had to find something that we could polish off by mid-afternoon.
The great MLCMM will recall the August 1st outing to the far end of Walensee, one of the loveliest lakes in all of Switzerland, and conveniently local. On that baking day last summer we were at a farmhouse, high on a hill at the far end of this gorgeously hazy canyon, above Walenstadt, taking part in the traditional Swiss National Day bonzer brunch, when the tomato-faced farmers provide food  and entertainment for the holidaying masses.
Yesterday we were at the near end of the lake, arriving in Weesen at about 10:45. The set designers had done a great job, turning it into a charming, typically Swiss town with the usual huge wooden houses and chalets, many of them sporting the Swiss flag.
We parked up and set off. When the tarmac ran out we were still on paths good enough (unfortunately) to accommodate small cars and motorbikes sufficiently brave to negotiate the narrow lakeside route, though the narrowing trail shook them off after 3 kilometres or so. From that point on, the north side of the lake, where we were, is inaccessible to traffic. To get anywhere, you walk — or you reach one of the two points where the boat stops. We were heading for one of them, Quinten, though at this time of the year, the boats are few and far between. Just one service was available yesterday to take us back to Weesen, so it was essential we reached our destination by 3pm.
The views will leave you gaping from the start. The north side is a massive wall of rock, underscored by the undulating lakeside path along which we tramped. Across the beautiful turquoise sheen of the Walensee, the south side is dominated by the ski resort of Flumserberg and a string of sister mountains. Most had done the decent thing and kept a patina of snow for us to silently wonder at as we made our way along the dwindling track. Just once we lost sight of the panorama, when the rocky path drew us through a dank tunnel that would have been too opaque to safely negotiate without the natural illumination provided by the occasional man-made porthole. These three or four mini-tunnels provided ravishing glimpses of the lake and the distant shore.
Then came a steep stretch of perhaps 3 kilometres. It shouldn't have been that hard, but 6 months of inertia chose this moment to seek its revenge. It wasn't a cosh from my blind side that floored me but a slow and gradual turning of a screw – a combination of hot sun and relentless ascent. By the time we reached the summit of the path, I was panting like the proverbial steam train. Shamefully knackered, I found a bench to squat on for a few very grand minutes of relief. As I let the stress of my unfitness drain from me and dribble back down the steep path, I made the mistake of thinking that was the end of the task. It wasn't.
The long path down to Quinten is narrow and treacherous with its rocky, pockmarked, tree-rooted, slippery stretches of lethal scree. On one side we had a wall of rock, and on the other, a vertical drop down the hill to the lake. Parts of the track had stout wire handholds drilled into the rock, but I didn't find these reassuring. Yes, they increased our safety – but they featured along the worst stretches only, so the appearance up ahead of another length of this makeshift handrail was like a sign saying: WATCH OUT! THIS BIT WILL FREAK YOU!
I'm exaggerating the track's intrinsic risk. A fitter, slimmer me would have had far less trouble. But the tough upward hike had exhausted most of my natural resources, already-depleted by the six-month layoff. This wasn't just a wake-up call, it was a bucket of icy water emptied over my peacefully slumbering running aspirations. The worrying part is that it was more than simple tiredness.  Halfway down the rocky descent, I realised my legs were rapidly jellifying, to the point where I couldn't be certain that the next extended step downwards wouldn't see the leg collapse beneath me. Bouncing down the track a few feet on my arse would have been the best case scenario. Worse would have been to vanish over the side of the ravine, followed by a trailing scream and eventually, a mighty, and far distant [splash!].
We survived.
Quinten is a lovely jumble of buildings scattered down a tiered slope leading to the lake, embraced by a small patch of pinot noir vines. Above, the massive rampart of rock that runs the length of the lake.
The boat was due within minutes, so we didn't have time to squander at the single open restaurant, even if the prospect of a cold beer and a missed boat seemed almost worth the prospect of the 3 week wait until the start of the summer season boat schedule. Instead, we gratefully clambered aboard the small boat for the 10 minutes glide across this most peaceful and pretty of Swiss lakes.
In a country splattered with natural jewels, I'm lucky that this one, the Walensee, is barely 25 minutes from home. I've been here many times before, but the walk from Weesen to Quinten donated yet another vantage point. It also opened my eyes to the awful state of my fitness, and how much work I have to do. Next time, I'll aim to pack the version with the smaller gut and stronger legs.
Friday: Early
Last week I spent three days in a windowless room near Helsinki Airport, Understanding Leadership with ten silent, but charming, Finns — and my silent, but charming, Swiss colleague.
The ladies fidgetted with their ID badges and worried about their figures — the ones they'd scribbled in the margin of the handout, to be compared with some other set generated in an earlier reverie. The stoical men in their warehouse yellow seemed no less tormented. I do like the Finns but I worry about their anxiety.
I may occasionally moan about my job, but it's good to be reminded that I never have to worry where the next pallet is coming from; no one beats me over the head with last quarter's revenues or team absentee stats.
When the trainer, another good Nordic egg, but one that'd rolled in from Oslo, used the expression, "coping with unpredictability", my mind wandered — to Berlin — and towards a tricky decision that had simmered unheard and unseen for many months. Now, just nine days out from the Berlin Marathon, the pot had been dragged to the front burner and was starting to bubble.
*****
The easy option was to erase all knowledge of the marathon entry, secured 11 months ago, and pretend I'd no plans for the weekend beyond the usual traipse around the produce aisles in Migros and a post-lunch Sunday stroll in the woods to give this autumn concept the once-over.
But what a waste. The entire 40,000 places had been snapped up in the space of an hour or two last October. I was lucky to get one, and greatly relieved at the time. Now I was throwing away the opportunity, along with the 100 euros or so I'd paid for it. Should I not at least go and play the tourist in one of the world's most celebrated cities? One I'd never visited? With a flight booked and paid for, this seemed like the obvious choice, even if it meant laying out more cash on accommodation.
The third option — to go to Berlin and actually take part in the race — wasn't realistic, though I confess the fantasy had drifted through my head from time to time. In a casual remark, immediately regretted, I mentioned to an incredulous MLCMM when he was here at the end of July that I was thinking about it. I told him: "OK, so I've done no training but there are still eight weeks to the race. If I can somehow work up to…. say…. fifteen miles, I could probably get round with a run-walk."  To the great man's credit, he kept a straight face and even managed to make some polite comments, when a stronger instinct must have been to guffaw loudly, slap his thigh and shout: "YA-HAH-HAH! That's a good one!"
Needless to say, those eight weeks were squandered. I'd manfully avoided alcohol and processed foods right through the affable Aussies' visit, but my resolve began to splinter shortly afterwards with more visitors, a fish-and-chip weekend in London and the trip to Finland, with its reindeer steaks and creamy pancakes. Still no booze, but too much cheese and chocolate and ice cream to count as a blip and enough to send the  28 pounds lost since mid-June clicking back to 20.
I hadn't been totally inactive but the summer's 'marathon training' could be richly detailed on a single Post-It note and stuck to the tub of race Vaseline I'd last used on Boston Marathon morning in April 2009 — 4½ years ago.
I'm looking at my exercise spreadsheet right now. I note my four Saturday hikes in July, plus a decent stroll with Mr. and Mrs. MLCMM across the tops from Zurich when they were here in the summer (yes, that does count when there's bugger-all else); a 65-minute bike ride in mid-August (see previous parenthetical note); a handful of half hour walks in the early morning before work (ibid); a total of just over six hours in the gym spread across three months; and yes, 52 sit-ups.
Real running? Nothing at all. I sort of tried. It seems that four times since June, I pulled on my trainers and walked outside. The longest of these excursions, and most recent, was on Sunday September 8th. I had no choice. That square on my calendar had been shouting at me for nine months: BERLIN – FINAL LONG RUN!
In another existence this outing would have been a steady 20-miler in full race regalia; the final dress rehearsal. The reality was grim: a fragmented run-walk plod along the lakeside path in nasty, heavy, ploppy rain that totalled 13.23 km, or 8.2 miles.
Midway through this half-hearted jaunt I'd stopped to dry out a bit at the café next to the car ferry. Approved running snacks are in short supply here, so I sat with a cup of black tea and a chocolate croissant, leafing through a pre-loved copy of 20 Minuten. (20 Sekunden would be a more appropriate title.) The small puddle at my feet was rain, not sweat.
From my window seat, the lake was grey and choppy, with the far shore  just visible through the drizzle. I stared at the town of Meilen, contemplating another cool and rainy morning, more than 7 years earlier, when I'd run through its pleasant streets, pursued by the sweeper bus in the Zurich Marathon.
Meilen is the exact halfway point of the race, and thirteen miles in I'd still felt strong and determined, despite the ceaseless, scything, icy rain on that unseasonably cold April day. . After the endless trudge along the eastern fringe of the lake, Meilen is the point where the runners u-turn and run the whole damn thing again in the other direction.
As I plodded through the proud and sporting Meilen crowds that day, I had no reason to think I'd ever see the town again. Nor Zurich, nor Switzerland even. But in fact, I've seen Meilen almost every day for over three years now. I can see the town clearly from my apartment, and I am seeing it right at this very moment as I glance up from my keyboard. Each time I look through the sitting room window, or step onto the balcony, or sit at my desk, I see Meilen across the lake and I think of that morning when thirteen miles into a marathon I'd still felt strong and determined, despite the ceaseless, scything, icy rain on that unseasonably cold April day.
Do I feel pleased at this memory? Or do I mourn the passing of my marathon days? The dull answer is both, depending on the mood. On that recent Sunday afternoon in the lakeside café, with my black tea and chocolate croissant, and the pool of water that was not sweat but rain, I was sliding towards the darker, melancholic end of the scale. Before the mood deteriorated further I drained my cup and resumed this depressing elderly-man-workout: two panting minutes of jogging, one of walking. Four kilometres later I was home and dry, but it took nearly 40 minutes to get there.
And that was my BERLIN – FINAL LONG RUN! My longest outdoor demi-plod for many months, if not years. Back at home, showered and warm, I was pleased I'd prised myself from the armchair, but just three weeks from Berlin, this was a very long way indeed from where I was supposed to have been.
Over these past five years or so of reduced activity, my main adversary has been the calf, and sometimes just the spectre of the calf. Severe lower-leg pains nearly ruined my chance of getting round Boston in 2009, and has scuppered nearly every attempted run since then. Apart from general sloth, fear of further trouble down below has kept me from trying to push the distances or the intensity. Paralysing cramps and strains in, first my left calf, then later (to add a little pleasing variety), my right, have tormented me like a terrier snapping at a sheep. Or at a calf, perhaps.
But remember Helsinki, and that now-furiously-boiling pot? The need to make a decision for the weekend? Decision made. I'm going to Berlin.
A few weeks ago, I found myself in Dachau, where I bought a World War 2 visitors' guide to Berlin. Shrink-wrapped, like pornography. A couple of days ago I tore the cellophane and started reading the history of the Reichstag. It was enough.
Last night I packed a small bag and settled down to watch the Question Time guests gnawing at each other's foibles. When that got tiresome, I absent-mindedly turned towards the darkened window and found myself staring down at the final ferry of the night. It slides across the Zürisee as if mesmerised: drawn, moth-like, to the distant lights of Meilen.
Friday: Late
The last minute decision meant a dwindling stock of Berlin hotel rooms from which to choose. TripAdvisor eventually threw up an affordable item from where I write this second leg. Inexpensive indeed, but basic to the point of threadbare. Its near-grimness has one benefit: not many guests to clutter the 2-person lift or clatter down the bare wooden staircase outside my third floor room.
It has a weary, worn atmosphere. The raspy cardboard towels and creaky floorboards; the pungent stench of bulk disinfectant; the back window view onto the small courtyard, where extravagant weeds poke through uneven paving; it's like something out of Le Carré. Ah, of course, I thought earlier, with a twinge of excitement, this was East Berlin. Must have been. How disappointing then, to check my map. No, this was the West, and this is just a cheap, grotty capitalist hotel in the Paddington of Berlin.
I don't much mind the shabbiness. It's set dressing; it's how the director wanted to portray the place — mildly squalid and vital and dark. All so splendidly well done. As a tourist in a new place, you sometimes feel that everyone's been waiting for you to arrive. You step off the plane and the performance begins. After all those long, painful rehearsals, today it's the real thing. That's Berlin.
On the U-Bahn from the airport, a squirming schoolboy next to me moans and tuts over his homework as if he's writing a letter of apology under duress. Glancing through the patterned windows at the Art Deco-like station tiling gives the elderly lady sitting opposite the chance to examine me through her blue-tinted spectacles. There's something cannibalistic about her. She munches on a chicken salad baguette that drips beetroot juice, like blood seeping from a leg wound. Perhaps I'm her next victim.
Into the crowded train at Bismarckstrasse comes a thin cheerful hippie with a straggly beard, pushing a sit-up-and-beg bicycle. The standing, sardined passengers groan and shift a bit more to admit him. A few seats behind me, a drunk starts shouting at something — or at nothing, more like. The murderous granny, seeing the airport labels on my bag, furtively mutters one word to me: "Russisch", as if she's conveying a secret password. You can see where Le Carré got it from.
——–
In other news: I'll be at the start of the marathon on Sunday.
The 70-minute flight from Zurich was spent staring at a long list of empty checkboxes. This was the very same list of checkboxes that several others passengers — skinny people in trainers — were staring at just to make doubly sure were all checked off. You can do a lot with empty boxes, and with my collection I was building a strategy — a defensive strategy. Defensive? This one would make Juventus look like the Harlem Globetrotters, but if I'm not at the start line to take in the atmosphere, I'll regret it.
A few days ago, my London Marathon entry for 2014 was confirmed. Now that is a race I see myself completing. Berlin, I know, will be a truncated experience but I want a reminder of what a big event is all about.
So. What will happen on Sunday?
[Silence]
If I hesitate long enough with my drying mouth ajar, someone will eventually change the subject.
Wholly unpredictable, but a secret internal memo left on the photocopier apparently says that if I can get anywhere close to halfway, I will be cock-a-hoop.
But.
Distance.
Is.
Not.
The.
Main.
Aim.
Even less relevant are the usual time-based marathon obsessions. Pace. Splits. PBs. No, my preoccupation this time round is to play the NSA / GCHQ role, monitoring the biomechanical data traffic and hunting down those corporeal terrorist cells trying to sabotage the panting Fatherland.
Typing with crossed fingers isn't easy, but over the past few months, the calf muscles have been better behaved. One of the aims of the long, grassy Saturday walks was to get plenty of miles into the legs, but without running's incessant pounding, and without the deadly aftershocks that bounce back up through the skeleton. I added some stretching and very occasional, judicious treadmill plodding, so who knows where this might lead? As my training records show, the few exterior runs have been tentative to the point of paranoia.
The plan now is to use the Berlin Marathon to give the legs a proper test. I'm sticking with run:walk, and probably with the cautious 3:1 (3 minutes running: 1 minute walking), but will see how it goes on the day. Perhaps uncontrollable excitement will unleash an audacious 4:1.
How far into a race can a fat old man plod on an empty training tank? I don't know for sure, but my instincts have pushed two thirds of my chips onto the 10 km square, with almost all of the remaining third on 20 km. And for a lottery-ticket-style laugh, a couple of chips on that big 42.2 box at the far end of the table.
My first target is to complete 10 km feeling comfortable, and 20 km in any condition at all, as long as it's this side of the 72 virgins with their pear-shaped breasts. If the calves are bleating at me by then, or at any earlier point, I will stop. Do you hear me? STOP! It's OK to limp home an extra kilometre or two, but not an extra 13 or 20 miles. My objectives are optimistic, but they take into account that weird magic: the unexplained tendency for race day to slip another few miles into the back pocket of even the most hopeless of entrants.
Mood barometer reads Moderately Excited. Turning this into survival is a task not easy to implement, but attempting it seems like a better option than paralytic dread. I'm seeking a balanced optimism: confidence without complacency, cautiousness without pessimism. Killing the 42 km monster isn't on the agenda, though I can't bring myself to say it's wholly inconceivable. Getting to the end isn't a realistic or a sensible hope, but let's face it, the world is bloody weird, and one needs fantasies just to get through most days. What I know for sure that I will get is enough for me: the opportunity to be there at the start of a big race; to yield once again to that joyous, infantilised atmosphere; and best of all, to gulp a few lungfuls of authentic German liniment.
The decision to start the race has radically altered my plan for the weekend.  The intended sightseeing is now severely curtailed, but there are unexpected compensations. One has been today's trip to the marathon expo.
Friday: Expo
Wow. Interesting venue: Tempelhof Airport (b. 1927, d. 2008).
Some think it should be bulldozed; others want to preserve it as a fine example of a bygone era, when flying was an exotic activity beyond the needs and pockets of the ordinary man in the Strasse. The current purpose of the old runway and surrounding grounds is recreation close to the centre of the city: a vast area for families, stray kids and dogs; for pensive writers peering over their notebooks at the city skyline; students with marijuana-stuffed matchboxes; red-faced teams in training. And a thousand other categories.
The colossal airport hangars have become exhibition space while the main terminal building is a quaint reminder of what we thought the future would look like, back in the 1930s, when it was last renovated.
Big city marathon expos are presented as the place to drop in at to collect race number, chip and tee-shirt and enjoy a bit of polite banter with emaciated strangers over a bowl of macaroni. In reality, a big race expo is a single-themed department store with hundreds of stalls competing for our specialised attention. Running is supposed to be a simple sport but you'd never think it, being shoved, round an event like this.
It's not a complaint. I needed this department store. I had no serviceable shoes with me. I wanted new socks. Gels. Yet another running belt wasn't on the list, but hey, I bought one anyway. I could have gorged on shorts and shirts and jackets too, but I had no room left in my bag. Two tee-shirts came with my race number. The vivid green one, proclaiming "Marathon Finisher",  is making me nervous. And I must have opted for that extra commemorative technical number when I entered.
I've been away from this scene for five years, and was keen to see what had changed. The Boston Marathon bomb attack earlier this year has had repercussions. The traditional habit of selling on, or giving someone else, your race number if you have to pull out, is now impossible unless you're one of the Jedward twins. Just getting into the expo required a carefully checked photo ID, and the long queues to collect race numbers and chips reflected the scrutiny with which papers are scrutinised. Even the quite legitimate act of collecting a race number on someone else's behalf is no longer allowed. If you can't pick up your number in person, you're out of the race.
What else is different? Not much. The watches have ticked on a few version numbers.  Shoes seem to be the sole difference. They no longer have to be predominantly white with a little splash of subtle toning on seams and soles. It's now de rigueur to strap garishly garnished objects to your feet, as if you're an extra on Teletubbies: The Movie, skipping off for lunch at McDonald's with your hand in Mum's.
Not wishing to be deemed unfashionable, I invested in a pair of Brooks Adrenaline GTS13s, decorated in "deep royal, lime and silver". My own description, donated to Brooks free of charge, is "Blue".
And GTS? I discover that GTS stands for "Go-To Shoe".
Shoes are a punt in the dark. Since the heartless and commercially suicidal withdrawal of New Balance 854s in the mid-noughties, nothing has done the job I need doing. I've hired and fired at least half a dozen temps, though one of the less incompetent candidates has been the Brooks Adrenalines.
Brand new shoes and socks for a marathon? I can hear the gasps of outrage, but I like the extra spring of new shoes. This bouncy bonus balances the risk. Despite the worthy advice, I've never found that modern trainers need 'running in'.
The socks made me linger longer. Eventually, I appointed some double-layered Wrights in another fetching shade of blue. Along with blue neoprene calf supports, my colour coordination strategy was shaping up nicely.
Where were my old favourite gels, SIS? Had they oozed out of the market since 2009? Later research said "No", but they were not to be found at the expo. Instead, I picked up a couple of High 5 Juicy Oranges and Citrus Blasts.
Another regrettable difference from the last marathon was the dearth of freebies. I picked up so many free cereal bars and sugary snacks at the Boston Marathon expo that I could have survived for months in a jammed hotel elevator. Maybe it's the recessionary times in which we live, or perhaps Boston is a one-off, but Berlin had virtually nothing to offer the unscrupulous scrounger like me, apart from free water being dished out in rather nice, sturdy, embossed beakers. I went back four times, which explains the tower of new plastic Berlin tumblers in my kitchen.
All shopped out, I lingered outside the hangar for a while, enjoying the festive atmosphere. Watching the kids gleefully racing their remote-control cars round the outdoor track, I heard someone mutter that BMW wasn't a suitable main sponsor for a marathon. This idea must have been a concern for BMW too, as it was a question on a survey they sent round a few days ago: "Does the link between BMW and the marathon seem incongruous?" I vehemently denied entertaining any such thought, knowing they are unlikely to make room for naysayers in the pot for the prize draw. (In the marketing world, this is a much-loved method of skewing survey results in the direction you want them to go.)
Here on the edge of the old runway in the Berlin gloaming, it was a happy scene. As the bouncy castle squeaked under the weight of flying children, squealing with delicious fear, I followed ancient marathon tradition by gorging on pasta and pesto, and grinning at matchstick-thin people grinning back at a bulbous time-waster like me. Standing there at the pasta bar, people-watching, with my drop-off bag and race number and new shoes, the sun just thinking about setting over the vast airfield, I licked the last traces of pesto from my plastic spoon and, for the first time in 4½ years, allowed myself the mildest frisson of marathon excitement.
————————————————
The Berlin Marathon
On race morning, I woke at about 6 a.m., yawned, and thought: "Oh dear."
At least number was already pinned to shirt. Non-race participants will not understand, but this operation is always more complex and time-consuming than it should be. (Actually, race participants don't understand either.) Following tradition, on Saturday evening I laid everything out on a chair and took several hundred photographs of the display, though I will later pretend I took just one quick snap.
Nutrition. I used to fret about whether to eat, what to eat, how much to eat, and when to eat. This time around, with expectations anchored at somewhere round the depth of the Titanic, and with an unknowable adventure ahead, but one whose final scenes seemed certain to reflect the fate of that over-confident vessel, I gave food barely a thought.
On Saturday night, after a long hard day of ceiling staring, I'd slipped out and meandered round the corner to the busy pedestrianised shopping area. Here I bought some cheap end-of-Saturday fruit from a jovial Turk at a market stall. I wondered how many bargain-hunting Berlin thumbs had been pressed into my pears that day.
A more up-market venue was a department store called Karstadt, a name familiar from that distant day in Konstanz. I had bought my favourite work shirt there, so it was clearly the ideal place to buy seedy bread rolls, freshly squeezed orange juice and a big bag of boiled sweets. It struck me as churlish not to top up with a small tub of apricots and a couple of large handfuls of vitamin supplements and cereal bars, not to mention a few arbitrary, must-have items of stationery, some ear plugs, a new fly-swatter and a bright red garlic press.
The idea was to carbo-pick at the bread on race morning, but it looked so good that I wolfed down most of it in bed while watching Match of the Day. Memo to self: crunchy bread not ideal for late-night bed snacking unless you want dreams that are like early 60s, low budget British movies: grainy, gritty and seedy.
On race morning, just one hunk of Brot remained, plus two bananas and some clementines, so I popped downstairs to the Frühstücksraum to salvage a few additional items. A group of lycra-clad Belgians had got there first and stolen the low-hanging fruit — but they were good enough to leave some brown sliced bread and Nutella. I needed nothing more, apart from the mug of hot water into which the innards of a manfully crushed lemon would soon be deposited.
After bathroom duties, the ceremonial marathon robing begins: nipple plasters, heart rate monitor chest strap, RunningCommentary vest, lycra undershorts with 20 Euros  stuffed into the tiny inner pocket. Next it's my voluminous plodding-in-foreign-country-they-don't-like-it-up-'em Union Jack shorts. Gel belt with the four High 5s waggling in the loops. In the zipped pocket, 26.2 boiled sweets are stuffed along with a strip of Ibuprofen, iPod and mobile phone. Garmin Forerunner, ready primed. Headphones placed around the neck.
Feet. Out comes the sacred Boston Marathon Vaseline, '09 vintage, for extensive slathering all over toes and around heels, over which the natty new blue socks are hauled. Dilemma. Do I wear my Thorlos over the natty new blue socks for added cushioning? Or will this spoil my blue theme? Yes, I finally decide. It will spoil my blue theme, but it must be done. Then the neoprene calf supports are stretched so tight around my lower legs that my feet start to go numb. Maybe that will be a good thing.
What else to take? What to leave? I scoop up a bunch of random items, shovel them into my draw-strung drop-off bag, and hurry off down the stairs, at least half an hour later than intended.
Once outside the hotel… Ah. I realise I don't know the best way to the start of the race. In fact…. where is the start? Somewhere in that middle bit, according to all the maps, but how to get to that middle bit? I'd expected to see hundreds of stick people in bright yellow and green running shoes, draw-strung drop-off bags slung over bony shoulders, thronging the streets around the hotel, urging me to follow. But they are not here.
Struggling under the weight of all these indispensable running aids, I lurch down to the corner, where I have the choice of subway to the left or S-Bahn (overground) to the right. I wait, like a big-game hunter impatiently stalking his prey. A minute or two later I'm rewarded by the sight of not one, but two beautiful fleeces approaching supported by bare, sinewy legs designed for running, along with the regulation plasticated, black and white race-day bags.
But these solitary beasts are on different sides of the street, and unconnected. No! Confusingly, the red pelt heads for the U while the blue goes for the S-Bahn. Gah! Quick! Make a decision! Attracted by the more brightly decked hooves, I head left and pursue my crimson prey underground.
Navigational difficulties do not end there, but there's only so much interest to be squeezed from an anecdote about getting lost on the Berlin subway, and I fear this narrative train has already hit the buffers. Let's say I finally find some crowds to follow, and I follow them.
The journey is spent rummaging through the contents of my draw-string bag, deciding what to take on the race voyage and what to deposit at the bag-drop. One of the day's easier decisions is not to start the race with a bright red garlic press in my pocket.
Emerging at Potsdamer Platz, I find myself scurrying alongside something…. curious. What is this? A large desolate space, managing to evoke both spiritual emptiness and urban clutter;  a cement pasture, crammed with hundreds of sombre grey rectangular stone blocks of varying sizes. Some nihilistic sculpture? Futuristic cemetery? Despite its austerity and unmistakeable modernity, it reminds me of the impressive chaos of Jerusalem's Mount of Olives, with its thousands of ancient graves crushed into that baking hillside. These lines of thought are moving me in the right direction. A glance at my map says it is the Memorial to the Murdered Jews of Europe.
The experience gives me a dismal minute or two which, natürlich, is its entire point. On a morning when my main worry has been what colour socks to wear, here from nowhere comes the bang: the brick in the face. Thank you for it, Berlin. If we can't hit the Undo button on our history, let's feel some tiny consolation in the knowledge that 80 years after the events, a piece of public art can ensure we continue to feel the their ghastly, ghostly reverberations.
The moment was important, but inevitably, hurriedly heading onwards to the baggage drop, the euphoric clamour of a big race day drags me back to the moment.
From 40,000 entries, about 36,000 actually start, dispatched in three waves. Fears about not getting to the line on time now seem absurd. I've done this before and should have known better.
Weather? Perfect. Sunny but cool, and dry.
I'm in the last pen, H Block, along with all the other naughty boys and girls who hadn't done their running homework. Rediscovering old habits, I bend down to peer through the jungle of exuberant footwear, and the frenzy of nervy toe tapping, heel clicking, explosive on-the-spot trotting, pointless leaping and forefoot stretching. This furious forum of lower-leg chatter has one ambiguous, collective message: get me the hell outta here.
We do get out of there, but it takes a while. The liberation of the plebeians was set for 08:45 but it's precisely 30 minutes later, at 09:15, that the tired, the poor, the huddled masses cross the line and head up the Strasse des 17 Juni in search of a better world and a brighter future.
This cocktail of euphoria and dread is not new. I'd glugged the same dangerous concoction in London, Chicago, Copenhagen, Hamburg, Zurich and Boston, and know the ingredients — both sweet and sour. The list of similarities was longer than the list of differences, but I need to mention a few items on the latter.
Given my previous angry splutterings on the subject, I must now hang my head and confirm that the iPod mentioned earlier isn't just for the train journey to the start. Do I disown all previous comments on the subject — about the dangers of listening to music during a race? No, I don't. It's a stupid and selfish thing to do, but in Berlin my mission was to survive as long as possible on an eternal treadmill of tarmac and concrete. The diet of near-zero training means I need every scrap of help available. I reason that the option of headphones and music might just drag a few extra flakes of endurance from somewhere within. In my defence, M'Lud, notice I call it an "option". My firm policy is to use this equipment in emergencies only.
The second difference is the run:walk approach, about which I remain somewhat ambivalent. Do real men use run:walk? I'm not sure they do, though I shouldn't feel too despondent about losing my membership of a club from which I banished myself some decades ago. As with the justification for the iPod, desperate situations demand desperate remedies. If I can make it to my 10 km or 20km targets only with a run:walk, then let's do it. And anyway, I always like to recall Hal Higdon's claim that his son ran a 2:18 marathon with some sort of run:walk plan.
A third difference concerns my running style (if I can dignify my fat-bloke-shamble by putting it in a box marked "running style"). Eagle-eared readers may recall hearing me enthusing about Chi-Running a year or so ago. Ah yes, you guffaw. That silly fad didn't last long!
In fact it did. It has. I've never stepped away from the Chi-Running ideal, though its perfect execution will forever be a destination just around that next corner. I've simply not done much running — whatever the style — since discovering it. When I was packing for Berlin, I tucked the Chi-Running book into that capacious wheelie-bag I drag behind me wherever I go: the one labelled GOOD INTENTIONS.
And when I set off up that long iron road from the wherever to the whenever via the whatever, I now try to recall the main tenets:
Stretch upwards; feel erect
Lean forward to take strain off the legs
Identify a distant point and aim for it: feel yourself being drawn to it as if a string connected it to your chest
Land on the mid-sole or even the toes, but NOT the heel
Keep feet pointing forward, particularly when starting to feel tired
Take small steps
Keep the pelvis steady and level
Pump the arms rhythmically but don't allow them to cross in front of you
Know where you're going: Look towards your destination with a sense of purpose
Suck loads of sugary sweets.
Yes, I invented that last one but everyone knows it's the missing piece in the Chi jigsaw.
Boston 2009 left me with many memories, but one in particular is the afternoon I spent in a cramped side-room at the expo, hypnotised by the reflections of five American Boston heroes. I recalled the words of Jack Fultz, the 1976 winner, and now sports psychologist: "The longest distance in the marathon is the 6 inches between our ears. Winning our own mental race is almost always tougher than winning the physical one."
For a competitive athlete, the marathon algorithm is complex, but at my level it must be kept as simple as possible. My task is to get as far as possible without injury. I have to keep this in mind, and concentrate on a few basics. One of them is this 'conscious confidence'. I have been this way six times before, and I know what to expect.
The run:walk plan begins well. The worry has been that, through these densely populated early kilometres, the need to stop at frequent intervals might have created a mass tumble on the scale of the 1967 Grand National. But with the leaders now already some miles ahead, the chance of casting myself in the Foinavon role is off the agenda.
In any case, the long opening stretch draws the field down both traffic lanes of a wide road, separated by a cobbled strip. This central reservation features plenty of spectators wearing glad-it's-not-me expressions. Despite the width of their grins, enough room remains for me to jump on and off when needed, allowing the human torrent to spill onwards without me as I carefully clock my one minute of determined striding.
Despite the absence of training and all that pre-race anxiety, I am able to slip into a slow but comfortable rhythm, and check off the first few kilometre markers without undue difficulty. The headphones remain neckphones. They are an emergency service, not the default.
I try to stay focused on staying focused. This is easy at the start,  with all moving parts freshly oiled. One feels the low steady hum of the human body and the slick tick of its clock — even one that had not been issued with marathon orders until it was too late to refuse and too late to retreat to the basement, to that stockpile of dented cans of cannots, coulda beans and other dried denials.
Thank you for the invitation! I'd have loved to come but it's too short notice and I'm already fully committed to…. wandering listlessly on my own through the damp empty forest for a bit on Sunday before getting back to watch the Cardiff – West Brom game and finishing up those frozen crumpets with the 2004 sell-by date.  Otherwise, I'd have loved to have joined you! Oh! How annoying!
The exhilaration of self-deception. Not the bit just caricatured, but the precise opposite: the bit that allows us the complacency to create that caricature — to chortle at our weaker selves, when we have only 5 kilometres erased and another 37 of the big, thick, black, bold charcoal bastards left uncrossed on the wall of the cell that we have not yet woken up to recognise as a cell. Where do we think we are? The Taj Lake Palace in Udaipur?
Yes. After being swept through the first 5 kilometres on a tide of endorphins, past proud, hanky-waving relatives concealing the existence of that very central reservation, this is precisely where we think we are headed. What hope they give us. Poking our heads through the carriage windows, we wave back through the breeze at the hordes on the platform: "It will all be over by Christmas! Keep the home fires burning! Look after young Arthur! Nowt to worry about! They've told us: 'Arbeiten macht Frei!' Hurrah!"
If 5 kilometres is the sleight of hand, the street-corner 3-card trick, then 10 kilometres takes us to the next level of deception. It's the [knock-knock] "Half-price tarmacked drive Madam? Only twelve thousand pound as we work quick like and will be well out of your way by lunchtime, er, cash only please…"
It's now 13 kilometres, and still I trot smugly onwards, noting I'd now equalled the length of my longest run and gone further than I've managed in several years. Encouraging, but this is still less than a third of the way round the Berlin course. A long way to go, yet the first point where I think: I might actually get somewhere near the finish today. Can I really do that? And how long will it take? Unforgivably, I start to do what I'd ordered myself not to do. I begin to think about time and pace and splits. Lunacy.
But the fantasy becomes unstoppable. If I continue at the same rate… I will hit the finish in what… 5 and a half hours? What's so bad about that for a marathon with no training? Why… if I just speed up a fraction… I will beat my Boston time. And… perhaps if I move to a 4:1 run:walk, who knows? I could even….
Gah! Madness, total madness.
My fellow passengers on this journey are straight from Marathon Central Casting. Several 100 Marathons Club tee-shirts. Wearers tend to be either ghostly, silent, elderly men, heads bowed in a permanent state of struggle and grief; or affable, middle-aged gents with bouncing beer bellies and shorts a size too small, hollering and clapping and directing ribald comments at shrieking ladies in the crowd.
As always, we see the quiet quests and profoundly personal projects. Some are advertised; many are concealed; The marathon can be the culmination of some long expedition towards closure, or it can be just another staging post on some unresolved and unresolvable journey. In the former category perhaps is the glamorous blond lady in front of me with her pink tee-shirt and its hand-scrawled slogan: Zwei Jahren frei Krebs!  I now suppress the tasteless urge to think the thing that, a moment ago, I had to suppress the urge to write. As those sexually-transmitted crustaceans scuttle sideways from my head and into yours, I'm consoled by the acquisition of an important new German word. Two years free of… Cancer. Well done, lady, well done. And I'm sorry.
Then there's the girl in the green Macmillan tee-shirt who haunts my race. Should she read this, I hope she forgives me noting that she isn't built for marathon running (not that I am). She will struggle and gasp and moan all race to keep going… and keep going she does.
One piece of running theatre that has me guessing comes in the form of an athletic guy who seems to be running in circles. Always just in front or just behind me, even if his agility and build are more suited to a spot near the front of the field. He will suddenly put on a spurt and hare forward, vanishing into the distance. Then a minute later, he's beside me again — but this time sprinting back through the field, towards the start, urgently, as if he has left something behind. A minute or two later, and here he is again, this time coming up fast behind me on the other side and disappearing up ahead. Several times, I think he has gone for good, but no, he always comes back, pelting past me in the wrong direction.
The kilometres continue to be banked, but the payments are now less frequent, and the work more demanding. At 10 km I 'd squirted the first gel down my throat. At 15 km, it's two Ibuprofens and a plastic cup of hot black sweet tea. The extra throttle is welcome but short-lived, and from about 17 km onwards, I can sense that I'm losing it. The strict run:walk discipline is slipping, like an ancient pair of Y-fronts finally giving up the struggle on a long hill walk.
The symbolism of kilometre 20 is wildly exciting, but I now know for sure that the game is up. All hands on deck! Another gel, another two Ibuprofen, a slice of apple and some sports drink — all consumed at one aid station. From here it will be more like a 2:1 run:walk, and perhaps worse.
Come on!
Come on Chi-Running! Come on conscious confidence! Come on sugar and water and carbs and any legal pharmaceuticals on offer! Give me death or gory glory!
A word on Berlin. This is an impressive and fearsome city, filled with architectural shouts of rage and power, intimidation, arrogance, civic pride. Except it's not frightening any more. That's the happy message. Those great grey towers and monuments we trot past: just empty volcanoes now. Scattered around these stone monoliths are numerous random manifestations of a more humane creativity: the public art, the churches and libraries, museums and galleries. Like poppies growing round uncollected corpses in no man's land.
Berlin, like Boston, is an exuberant marathon town, and like Boston, it's rooted in humanity — the real thing. Frenetic crowds, 90 live bands strewn along the course, children performing and partying. As I slow down to applaud a group of kids playing recorders, one of the proud parents shouts:  "The English! So polite! So bloody polite! We love you!"
My shamelessly provocative shorts are doing their job, encouraging many cries of support in English accents, as well as one or two good natured, but uncomplimentary, remarks in gruff German tones, linking my sporting ability to that of my national football team. Outrageous. The beaming German kid who shouts: "Go Chelsea!" isn't rewarded with the smile and thumbs-up his well-meaning remark deserves, and I hate myself for that.
Well past the halfway point, and now the faltering campaign croaks its last despairing request: "Bring me headphones", it seems to be whispering, "And a bubbly stream of forgettable chart hits from the nineteen sixties…"
I'd reasoned that frivolous feel-good froth might be the desperate remedy required, so I'd poured three CDs-worth of 1960s audio bubble-gum into the iPod, along with a few chunkier flakes from that era — the Beatles, the Doors, Mamas & Papas. Oh, and a 67 minute version of Pachalbel's Canon to anaesthetise me, and to erase a few kilometres from my consciousness: all that cambered tarmac and the constant crack of those plastic percussive things that gritted- marathon spectators bang together for hours… all would be erased.
67 is my favourite number, and 67 minutes of Pachalbel did its work well. Like the junkie, falling gently backwards with closed eyes and a distant smile, syringe still waggling from his forearm: the relief is instantaneous, and I will remember little about the next stretch. Nothing Berlin-external, anyhow. It's a musical general anaesthetic, and as it oozes through my veins, its sombre, spiritual character drags the corpse of my sister into my thoughts.
A week ago was the first anniversary of Susan's death. She had many addictions, but two in particular: vodka and The Beatles. When we cleared out her house, along with the empty Smirnoff bottles and unopened mail order tracksuits and painkillers, we came across a copy of Jackie Magazine from 1966. Flicking forlornly through its innocent pages, I wondered if the double-page spread of the Fab Four was why she had kept it.
When the narcotic Pachalbel finally fizzles out, the iPod shuffles me a… what else? Penny Lane. Would this be the best or worst moment of the day? I don't know. But it means I plod past the 31 kilometre mark with tears drizzling down my cheeks. I am sobbing, people, and I don't care. Sobbing for my big sister and a life thrown away.
And then there were ten. Just 10 kilometres left. I began the day wanting to run at least 10 km, and hoping somehow to reach 20, but here I am on 32 km — and no calf pains. But by now I'm walking quite a lot, and slowing down even further. There's an encouraging clap on my back. "Come on Team GB! We can do it!"
It's the girl in the green Macmillan tee-shirt. We've overtaken each other a hundred times in this race, as you do, but this was the first time we've exchanged words. I thank her, and move on past again. As I do so, I see the amazing circular man — the one running forwards and backwards and forwards again — slow down and chat with her, and realise they are never far apart. At last, I get it. This is a running partnership. He is coach and mentor; she the struggling tryer. He could have raced ahead and been finished long before now, but that's not his role today.
With about 8 kilometres remaining, and fed up with being overtaken, I devise a simple mind game — keep count of how many people overtake me, and how many I overtake. The diversion works well for at least 4 painful kilometres, after which my score is 188: 42 in my favour. I can't recall who recommended that game to me, but it's keeps you motivated and helps you wind down the distance.
Along with the mind games, the sixties music helps to drag me along. Much of it is anonymous, risible rubbish, which was a deliberate choice. At this end of the task, I want to fill my head with upbeat, forgettable nonsense. It worked. Along with the anonymous stuff, plenty of long-unheard pleasures make themselves known: Telstar, those Manfred Mann hits, Peter & Gordon, Cilla Black, The Swingin' Blue Jeans. Happy music, designed to conceal the real world from the listener — precisely the intention.
But one or two emerge from nowhere to sting me too. As the last couple of kilometres loom, I'm ambushed by a familiar few seconds of 12-string guitar, and feel myself gulping. Gulp. It's been a while. Gulp. A good long while. One of my desert island discs, and a song forever linked to those first few miserable weeks at Manchester University in 1979, and that appalling bar in the shopping precinct below the flats I'd been billeted in, where the cider was low and cheap, where the jukebox had just one song I could bear to listen to, and so, for the second All the leaves are brown time that day, I'm tasting salt and now I'm not lamenting poor dead Susan And the sky is grey nor even my lost days as a student which I knew I went for a walk when I had them I would not much miss On a winter's day this time my tears are for the 40k sign when for the first time today I think fuck it I'll finish the berlin marathon never my hope intention fantasy believe me people anything like that watch says what it says I miss boston time who cares will miss 5:30 who cares nearly that now and still fifteen fourteen thirteen bastard hundreds to shamble through the crowds grow thick once more freddie and the dreamers fuck off  this warm noise its why kids love this race to scream for hours bang bang plod long plod more cheers thanks peeps nice peeps and turn turn turn more cheers short plod and turn turn turn and oh forlorn forlorn whats this the Brandenburg Gate people, the Brandenburg Tor my god and what a sight this is people the Gate the Gate is Great towards the Tor this thing this album cover thing.
And so, disoriented, blind with tears but dry inside, I stop or slow right down as there it is — THE END. Done in, defeated, empty. Head wild and caring nothing anymore for this or any other thing right now and never will I care again.
And then. The announcer; an announcer; the one whose shift it was just then, who sees me winding down towards the line and sees my shorts; he interrupts his jovial Deutscherapspiel and bellows out across Berlin: "Come on England! Run! Enger-lund! Enger-lund! Show some leadership!"
Do I grin and wave? I don't know. One hopes one did. One hopes one is. One feels one should. It's what bloody polite English people do. I do know that after this amplified chain of imperatives, Run! Enger-lund! Run! Show some leadership!, was broadcast across the huge heart of this battered city, one we should all love and thank, I do, I think, reach one last time, those bootstraps and I tug, I hoist, I'm on this tiny private running gallows, built for someone's else's entertainment. And as the clicking knitting needles get louder and quicker, it's those last three words: Show some leadership! that sweep me over the line with a final smile and take me back 9 days, 9 years, 9 lifetimes, to three windowless days in a room near Helsinki Airport with ten silent charming Finns and my silent charming Swiss colleague and a pot that was just starting to bubble.
Other pictures: CLICK
1. SC Freiburg vs Bayer Leverkusen (26 January 2013)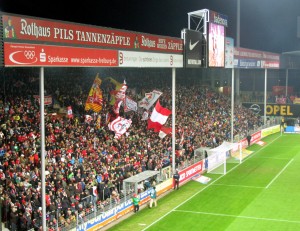 Germany is one of those pleasures I discovered late in life, like tinned artichokes. My first ever visit was for the Hamburg Marathon in 2005, followed soon afterwards by the series of work trips to Dusseldorf. I liked it then, and I like it now. Enough to think about living there one day.
From where I currently live, the border is less than an hour away in the car, so I have few excuses for not visiting more often. It's the Tower of London syndrome — the UK's most popular tourist attraction with 2 or 3 million visitors a year, but a place I've never been to, despite living in London for a total of 25 years. It's easy for something that can be visited anytime, to become a place never visited at all.
Since living in Switzerland, I've thought of Germany as that huge, cheap, out-of-town supermarket, worth a special trip once in a while to stock up with verboten pleasures like beef, a kilo of which would save enough to fund the petrol bill.
My last two visits have had a more specific purpose. I'm indebted to the redoubtable @sweder for unintentionally encouraging an interest in Bundesliga football. His casual question, uttered in a rare moment of alcohol-free coherence (on the part of both us) during his visit a few months ago, had unintended consequences. He asked me which local football teams I'd adopted. My answer, "None", set me thinking. I ought to attend the odd game.
Back at the end of January, Switzerland was still on its mid-winter break, but the Bundesliga, Germany's Premier League, had returned from its own shorter pause a couple of weeks earlier. A little more probing with the help of www.footiemap.com revealed that SC Freiburg, based in Freiburg im Breisgau, Baden-Württemberg, was my nearest club — a theoretical drive of about 1 hour 45 minutes.
"Theoretical" because I opted for the longer, scenic route across country. This took me through Zurich and over the border into Waldshut. From there, or so I had planned, my sat nav would guide me through the southern reaches of the Black Forest, up through Todtmoos and Todtnau, arriving in Freiburg mid-afternoon. I would check into the hotel then wander the mile or two to the ground, perhaps taking in a beer on the way. All in good time for the 6.30 kick-off.
This putative rustic meander didn't go to plan. The sat nav didn't want to play by my rules, and kept dragging me off towards the French border and the motorway. Neither of us surrendered. Even when the bloody thing agreed to go the way I wanted, it warned me it would take so long that I'd miss kick off. I drove on regardless, through ethereal pine forest and along precipitous roads with bracing views across the snowy landscapes of first Bavaria then Baden-Württemberg.
The scenery was glorious, but as the afternoon ticked on, I seemed not be making the progress I'd hoped for. Eventually, in a u-turn worthy of a place alongside the Pasty Tax, I conceded defeat and raced back south. Once across the border I joined the motorway to Basle, then northwards into Germany again, tracing the French border and the distant outline of the Vosges Mountains of Alsace.
Freiburg is a small but very fine medieval city. The Altstadt — Old Town — is a beautiful place, but it will never shake off some sombre personal associations. I was here last September with my wife. We were in the cathedral just before midday when I felt my phone vibrating in my pocket. I stepped outside to take the call, which would tell me that my older sister had just died. As I stood there, not quite knowing what I should be thinking, a tremendous tumult of bells suddenly exploded across the city centre. The timing was perfect. It made the need to talk, or even think, superfluous. As this demented sound continued to fill the void vacated by rational thought, I walked slowly across the square to the Currywurst stall. Here I bought a glass of beer and raised it skywards to toast Susan's memory.
We left Freiburg soon after, leaving me with a sense of unfinished business that I've made some effort to deal with. This latest visit was now my third time in Freiburg, and despite its ancient loveliness, will always be the place I happened to be when the life of my sister finally drained away.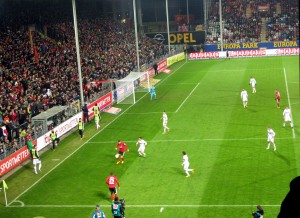 Freiburg on a freezing black January evening has a different feel to it. I was in danger of being late for the match, so drove straight to the stadium and spent a feverish 30 minutes trying to find somewhere – anywhere – to dump the car. In desperation, I parked illegally in a private residential spot and legged it to the stadium, hoping my return would not be greeted by a quivering forest of angry pitchforks.
For a sentimental Custodian of the Football Anorak like me, there are few things to match the appeal of an illuminated stadium on the evening of a game. The roar of 30,000 inebriated oafs has a symphonic grandeur unmatched by anything the Royal Albert Hall might muster. Add the exquisite aroma of onions frying on the Bratwurst stalls and the beguiling volcanic glow as you approach the venue on a cold dark night, and you are being handed the promise of something truly tremendous.
Even before I got to the ground, I was entertained and enthralled by the violent noise of the supporters. The 6.30 kickoff had offered an opportunity for an extra beer or two that few Freiburgers seemed to have passed up. Although elements of this scene were profoundly familiar, I was instantly aware that the style of music and singing – martial, stirring, and lusty — were quite different from the sound of a British football crowd.
Once inside this pleasantly clapped out arena, I was met with the spectacular sight of a terraceful of excitable, flag-waving fans. A terrace, you say? Ja, Germans are still trusted to stand up at football matches. It explained the volume (in both senses) of the choir. With standing you can easily move towards or away from, depending on your predilections, the singing hoardes, thus giving the rough and ready vocal ensemble a concentration guaranteed to produce a decent racket and thrilling atmosphere.
In truth, the fans offered more entertainment than the players on that sub-zero January evening, shredding their vocal chords through 90 minutes of bellicose anthems while the floodlit soldiers of Freiburg and Bayer Leverkusen played out the mildest of 0-0 draws.
More memorable was the simple sight of the terraces, which pumped me full of nostalgia that evening. A further blast of sentiment hit as I noticed that Germans are allowed to smoke and drink beer – while actually watching the game. Just imagine that. The two chaps next to me got through six half litres each – three either side of half time. We were sitting near the top of a steep stand, high above the corner flag. They took it in turns to fetch the big cups of frothy liquid from the beer and sausage dispensary at the foot of the stairs. Their ability to negotiate their way to the top of the steps with the two plastic glasses declined as the game wore on. The first couple of rounds were conveyed with a haughty confidence while the final two excursions of the night were as nerve-wracking for the spectators as they must have been for the two performers, who looked more like jittery amateurs on a tightrope than thirsty men in pursuit of refreshment.
The entire experience was jovial and exhilarating, but later reflection turned it into a forlorn reminder of what football  used to be in England pre-Hillsborough, before the wet blankets were pompously lowered to muffle the true sound of our anguish and joy.
Footnote:
The following morning, while wandering around the cobbled streets of Freiburg's old town, I noticed occasional flashes of gold beneath my feet. Investigation revealed these to be the Stolpersteine, or brass 'stumbling blocks', so-called (according to the Wikipedia article) because it was once customary, before the Holocaust, 'for Non-Jews to say, when they stumbled over a protruding stone: "There must be a Jew buried here".'

A Stolperstein commemorates a Jewish person sent to one of the Nazi extermination camps, and will be found directly outside the house or apartment where they last lived, and from where they would have been taken.
Germany is full of such reminders.

The learning curve is as steep as some of the hills on this walk. After last week's aimless perambulations above Bühler, and the spirit-shrivelling dehydration, I made a couple of small adjustments for this weekend's outing. I dug out an old compass, last used in the Yorkshire Dales in the nineties, and found a water belt of more recent vintage to ensure easier access to fluid out on the trail.
I repeated the format of previous weeks, first driving to the day's destination, then making my way to the start point by public transport. This week I was aiming for Urnäsch, still in the Kanton of Appenzell. According to the typically detailed Wikipedia article, it's a less cerebral place than Trogen, with a mere 57.4% of adults having been through tertiary or other post-school education, compared with a brain-bulging 74.7% in Trogen. Population is 2268, of which about 250 are foreigners. A striking illustration of the economic health of the nation is found in the unemployment figure — just 1.33% of the village are registered unemployed, and this is fairly typical.
Back in Appenzell, something apart from me was afoot. As I approached the Zentrum from the station, I could see flapping temporary canvas walls going up everywhere, partitioning the small central square from the rest of the universe. Being still early in the day, the erection was not fully formed, so I was able to breach these makeshift city walls without anyone putting up much of a fight.
Inside the tarpaulin citadel, all was revealed. Ah. Of course. The mini festival at which Uriah Heep were performing, along with Al-Berto and the Fried Bikinis — mentioned last time. This improvised arena was looking good with a proper stage and lighting, and an array of bars and Wurst dispensaries around the perimeter. It looked inviting, but the Fried Bikinis wouldn't be twanging their banjos and slapping their Lederhosen for a few hours yet. It was a tiny auditorium, perhaps 20 square metres, and I could see Uriah Heep blowing a few socks off before the day was out.
I had more wholesome fish to fry, and set off…. in which direction? I found a town plan with Trail Number 3 marked, but the map wasn't detailed enough to show the street names. All I knew is the path led west of the town. Aha! Hang on! I pulled out the compass and headed west. Within 200 metres or so, I was in business. The same distance again, and I was already leaving Appenzell behind, cheese unchomped and beer undrunk. Another time.
I became lost only once on this leg, about 45 minutes in. After arriving at the golf course, as expected, I skirted round it and headed into some dense woods. The path was crossed with glistening tree roots and sharp rocks – not an ideal combination for anyone lacking the agility of a ballerina. But I made it to a small river and crossed a bridge into another stretch of woodland. After scrambling up a steep bank and past some insolent cattle, I came to a well made trail with a sign, clearly telling me that Gontenbad, my immediate destination, was back the way I had just come. Eh?
I gazed at my map, as if this would prove the sign wrong, but the places I was apparently heading for were plainly not where I wanted to be. Again, the compass was summoned, a bit like the third umpire in cricket, and grimly confirmed the verdict. I couldn't even negotiate an obvious detour, so after a minute or two of disconsolate blinking, I sighed and headed back the way I had come, past the insolent cattle, down the steep bank, across the river and back up the path with the glistening tree roots and sharp rocks.
Back on the edge of the golf course, I sat on a bench and watched some rich people take confident swings with their clubs. They kept peering at me warily, as if anxious about what I might do next. All I did next was to eventually get up again and find another route around the course. This one took me across a field and up a horribly precipitous hillock that I guessed had been landscaped in by the designers of the course, because as I finally struggled over the top, gasping for breath, I found myself on the edge of a green at which two elderly ladies were shrinking backwards, away from me, as though I was an extra-terrestrial, or an ogre emerging from a hole in the ground.
It wasn't a time for breathless explanations or apologies. Instead, I transmitted what I hoped was a vacuous grin and issued a lusty "Grüezi! Ein schöner Tag!" and marched off in the opposite direction.
I still wasn't on the official path, and so I spent a nervous ten minutes tip-toeing from one inadequate hiding place to another as the golf balls flew. Finally reaching the neutrality of a tarmac path seemed no less an event than the Von Trapps escaping across the Alps to Switzerland. Hurrah! I hurried away up the path.
Shortly afterwards, I began to notice something rather strange – a procession of families with young children, passing me on the path in bare feet. Most had dark liquid mud coating their feet and lower legs. From where had this impoverished tribe appeared? And where were they heading for? All around us were small huts that reminded me of the shielings in the Outer Hebrides. Have I ever talked about my youthful experience in Stornoway? I must talk about the Hebrides sometime. As a boy in my mid-teens, I twice ran away from home to this most extraordinary of places. The shielings are tiny huts where the peat cutters and jobbing croppers would be accommodated. Could I have stumbled across a ghastly Swiss secret? A herd of nomadic agrarian serfs?
I felt even more uneasy when one of these chaps approached me, tugged my shirt and began jabbering away in some unrecognisable guttural tongue. But then I realised he was speaking German while sucking a large boiled sweet. And he wasn't tugging my shirt so much as, sort of, indicating it. It was my bright yellow Boston Marathon shirt once again – an item that has accompanied me on all three legs so far. My German wasn't good enough to jabber back but it was clear he was paying homage, or at least expressing sympathy over the bombing of this year's race. I thanked him earnestly, as if I were some sort of roving ambassador for the event. We shook hands and parted.
The truth about these people emerged shortly afterwards, when I noticed that every footpath sign carried a small notice saying Bar Fuss. I hadn't instantly twigged that this wasn't an advert for some local hostelry, but was saying "barefoot". It was a special barefoot trail, complete with muddy trenches here and there to increase the fun quotient for the kids.
Once I realised what was going on, or coming off, I felt a sort of unspoken peer pressure weighing on me, and decided to join them. Shoelessness made me ponder the uneasy relationship between the modern world and this more elemental state of nature. For people accustomed to shoes, it's actually quite hard to walk unshod, though it was fascinating to watch a group of young children ahead of me, running and skipping along the trail while their parents took more tentative steps. I suppose the kids had not yet been taught that walking barefoot was difficult.
The Bar Fuss signs continued for some way, but my experiment ran out of steam after a kilometre or so, when I had to cross a main road and join a stonier path. This ain't no pilgrimage, I told myself, and reconsidered the decision. The compromise was swapping bare feet for a pair of light sandals I'd had the foresight to stuff into my backpack. I bought these Teva Toachi 2 walking sandals a while back. Not cheap, but good shock absorption, and useful for crunching round my kitchen floor in the nervous days following another glass breakage. Today I wore them all the way to Urnäsch, almost killing myself only once or twice.
I stopped to admire some insouciant pigs, who tried in vain to pretend to have no interest in me. Peering round the pigsty, I was reminded I had to clean my apartment before the arrival of the great MLCMM and Frau MLCMM next week. I also need to break the news to this human Roman numeral that I am not imbibing alcohol at the moment, and haven't been for… crikey, six solid weeks.
This time around, I've eschewed the usual blogatorial pronouncing the final vanquishing of alcohol. It's been very easy to take a break from the stuff — though it always is. It's usually at this sort of point, when I'm starting to develop a smugness about my victory, that the switch gets flicked by some remote, invisible finger, and my good intentions crumble on the altar of mild temptation.
So I say this very very warily — that it's starting to feel different this time. And it is different in that I've remained more disciplined about food. In 6 weeks, I've eaten almost nothing processed. The odd can of tomatoes or kidney beans — hardly processed food hell. A tin of pineapple. Some soya yogurt. A few slivers of cheese, and some tortellini discovered frothing up at the back of the fridge that seemed a shame to waste. Only twice have I eaten wheat bread (and one of those was a few croutons in soup), and a few more times I've had a slice of pumpernickel with my scrambled eggs and smoked salmon for breakfast. The pumpernickel sold here is the authentic German style, made from 100% rye. Not totally gluten-free, but packed with nutrients and fibre.
I didn't intend going wheat-free and lactose-free, but that's what seems to have happened. No bread or cakes or biscuits or crisps. No potatoes, no pasta, no rice. I've discovered gluten-free qinoa, which is an admirable stand-in.
No coffee. I've stuck to green tea or rosehip to avoid the need for milk. Plenty of chilled Zurich tap water which, as I think I've bragged before, has been pronounced more pure than bottled mineral water.
But: forgive me Father for I have sinned, for each of my Saturday walk days has started with a bowl of muesli and splash of milk and yogurt to fuel me up a bit. But that's it.
Breakfast remains my favourite meal. I tend to alternate between 1) fresh fruit salad topped with a spoonful of soya yogurt and ground seeds (linseed, sunflower, pumpkin etc), washed away with a glass of homemade smoothie (melon and raspberry usually), and 2) two scrambled eggs and smoked salmon or mackerel on pumpernickel that's first spread with my 'green mix' — a sort of pesto made with spinach, basil, parsley, garlic, chilli, avocado and a splash of olive oil, whisked in a blender. A bit of pepper and a splash of Worcester Table Sauce. Cup of green tea. Job's a good 'un. And ok, 3), my Saturday treat of birchermuesli (oats soaked overnight in apple juice and plain yogurt), topped with chopped banana, blueberries, dried prunes and anything else in the fruit category I have lying around.
I'm seeing a link between processed food and a craving for sweet things. In fact, I think there is a strong link between processed foods and a craving for… processed foods. It's self-perpetuating. And beer and wine have offered little temptation either. The closest I came to succumbing to beer was two Saturdays ago, when I limped into Appenzell, severely dehydrated, and had a brief fantasy about walking into a bar and croaking an order for ein grosses bier. It was the cold liquid aspect that held me in temporary thrall, and not the alcohol.
How long will it continue? I don't know. Despite my resolve, a 4-day visit from one of the Southern Hemisphere's most notorious beer enthusiasts presents a challenge. And the penultimate day of the visit is 1st August, Swiss National Day, when a frenzy of public celebration is traditionally doused with a few cold 'uns or a bottle of something vinous and fizzy. Pray for me.
Back to the walk. There isn't too much more to say, which may explain the preceding narrative detour.
The final third was a pleasant and unchallenging experience, drawing me through the usual mix of open hillsides, farmyard and woodland. It was a path through a patch of forest that gave me my trickiest moment. A steep track descended into the V-shaped, wooded hollow. That wasn't bad, but in the base of the cleft was a small stream that I had to cross. Sandals and a heavyish pack gave the task an edge of peril that I didn't greatly enjoy. It was one of those situations where confidently, and rapidly, striding across in two or three large steps might have been the best answer. Instead I took seven or eight small, nervous steps which did eventually deliver me to the other side, but not without an anxious gasp or two.
Then up the other side of the wood and onto an open hillside where Urnäsch lay before me like a large buffet. Unlike Appenzell, which never seemed to get any closer, today my destination was grasped within a reasonable 30 minutes or so.
Back at the car, as I changed my shirt and prepared to set off on the hour's drive home, I glanced up and saw the Appenzell train approaching in the distance, just as it had earlier in the day. For a fleeting moment I thought about jumping on it again to treat myself to a blast of Uriah Heep, not to mention Al-Berto and the Fried Bikinis. A sudden stab of longing dragged me half out of the car. I could see along the platform, and noted there was no gang of Italian schoolgirls to obstruct me this time. I could make it if I tried.
But then… but then I remembered the array of beer and sausage stalls running around the edge of the town square arena in Appenzell, temporal sacraments to service the needs of a head-rattling congregation. And I was thirsty and hungry. Hmm. With a sigh, I got back into the car. I remain confident, but not yet ready to jab an arrogant finger in the ribs of temptation.
I can't now recall whether I'd ever even heard of Appenzell before I moved to Switzerland though it's renowned within the country for all things pastoral — its beer and cheese for instance, and its velvetty, undulating topography.
And then there are the countless ancient rustic Swiss traditions — like making it impossible for visitors to park a car for more than 15 minutes in one place.
I was here just two weeks ago with M, when the hills, and the famous appeal of the region, were hidden by a thick curtain of rain and fog, and the highlight of our afternoon was a visit to the supermarket — its car park had proved irresistible. Now, in the sunshine, this small town and the Kanton of the same name are transformed, and charming enough to be forgiven.
Switzerland is famous for its cheese, though not quite as famous as it thinks it is. In my whispered opinion, a triumph of quantity over quality. Nothing at all wrong with most, but for an Englander raised on Stilton and farmhouse Cheddar, most Swiss stuff is a bit bland and samey. A good mature Appenzeller is one of the exceptions, and could comfortably break bread with a decent mid-range Cheddar without dying of embarrassment. I have a soft spot for it. It was the first cheese I bought in Switzerland, within an hour of our arrival in Zurich in October 2010.
And so it was good to finally shake hands with the place today. Appenzell was to be the start and end point of my proposed walk – Stage 2 of the Alpine Panorama Trail, Switzerland's National Trail Number 3.
Like last week when I parked in Trogen and made my way to the start, today I drove the 90 minutes or so to Appenzell, parked, and took the train back to Trogen, changing again in St Gallen. I'd arrived in plenty of time to make the 10:08 to St Gallen, but trying to offload the car made me miss that one and nearly the next one, 30 minutes later. Eventually, I abandoned the thing in a school playground, ensuring I'd spend the rest of the day worrying about them shutting and locking the gates before I returned.
Between Appenzell and St Gallen, I took the opportunity of removing a shoe and sock, and slathering some Vaseline between the toes while an elderly lady looked on with three parts disdain and one part fascination. Before the operation was complete, the train stopped at the village of Teufen and about 40 boisterous young teenagers crowded into the carriage, filling every available crevice with their bright blue teeshirts announcing Teufen Handball Camp 2013. This mysterious game is big in these parts. The influx meant the Vaseline smear campaign had to stop, and the second foot had to wait for the second leg, between St Gallen and Trogen.
The only other thing of note on the first train was a poster advertising a music festival in the town featuring none other than Uriah Heep, celebrated rockers of my youth. So from stadium gigs across the globe through the 70s and 80s, they are now not just playing the village square in Appenzell, but appear to be lower down the pecking order than Al-Berto & The Fried Bikinis.
Despite the public toe lubrication, I'd been more organised this week. Food needed more thought than I'd realised last time, so today my packed lunch was in the fridge and ready to go before I got up. Homemade pecan nut butter on rye bread, boiled eggs, cornichons, olives, tomatoes, walnuts, prunes and sesame snaps — to be washed down with diluted orange juice or water. No it doesn't sound too complicated, but I had to find things that didn't dishonour my current food religion, then pack them all into unsquashable containers in an arrangement that didn't juxtapose the wrong flavours.
With better advance planning, I was out of the house by about 08:30 — two hours earlier than last week. It's an hour and a half to Appenzell if you take the scenic route, away from Zurich and the autobahn, and instead thread your way through the numerous flag-waving villages and narrow lanes that spiral up around the lush hillsides. It was going to be hot again, around 30, though a couple of degrees less than last week.
At Trogen, I marched back down to the village square and the distinctive church. I'd been confident about where the route picked up from last week, but a few minutes into the trek, I was already doubting my inner compass. This set the tone for the day. The walk was full of improvised meanderings. Some were forced on me (more of that later); some the product of bad signage or tracks that simply vanished in the long grass; and some the result of bad judgment on my part.
About 20 minutes out of Trogen the path I should have started on finally appeared, but like my sudden smugness, didn't last long. The track led away from the metalled road and into a dense wood where the grassy trail became increasingly overgrown and indistinct, eventually evaporating completely. I was lost, and resorted to hauling myself up a steep muddy bank in search of a beaten track, using the thinner willowy saplings as handholds. As the canopy of trees grew thicker and darker, I batted away a faint sense of claustrophobia, struggling further up the slope into ever thicker woods until I reached that state occasionally experienced on a very crowded tube train, when you no longer have to hold on to anything, but are sustained by the crush.
Then finally, just moments from panic, I burst through the solid foliage like a Champagne cork being released from a shaken bottle. Amazed, I found myself spilt across a real track that would merge with the official signposted trail just 200 metres or so further on. Hurrah! A serene stretch followed, leading me to a lookout point and small restaurant – Hohe Buche (High Beech).
The view across the wave of hills was glorious but today I was to be a participant, not a spectator. With the briefest of stops to glance at the information board explaining the names of the distant peaks, I plunged headlong into the movie before anyone could stop me. The path took me down into a deep valley, crossing beautiful open countryside between farms and desolate barns. It was a lovely environment, but I couldn't deny the suspicion that once again I'd strayed from the hiking script. The path had petered out again, and when the distinctive yellow Wanderweg sign did finally reappear, there was no mention of Path No. 3 or any destination I recognised.
I must have gone wrong at Hohe Buche. I briefly thought about retracing my steps but couldn't face the long haul back up the wall of the valley. Instead I headed in what I presumed was the right direction, and hoped for the best. Twenty minutes later, on the floor of the valley, at a junction of two trails, I took a left-hander and wandered upwards again, through fenceless fields and past empty houses, until I found more crossed paths and another sign. Here at least, one of the options – Bühler – was a place I had on my route, so I took the Bühler path and hoped for better luck.
The trail undulated all the way to the Buhler, with the ground underfoot changing from tarmacked lane to narrow farm track to faint grassy hillside path. A passing jogger offered a violent Shearer salute; a tractor 3 metres wide came up behind me on a walled farm road that was 3.1 metres wide; and I encountered my first Swiss stile — an old turnstile guarded by a few cattle. These were the highlights on the road to the next village.
It was now after 2pm, and the sun was starting to weigh on me like an extra rucksack. The hot spell continued without respite for the next 5 or 6 hours. I was thirsty, but didn't want to interrupt the momentum to stop and get a drink from my backpack. Not good practice. I recalled the advice from my running days, that you should never allow yourself to feel thirsty. Thirst means dehydration, and dehydration is not good. So hydration strategy is something to add to my lengthening 'must think about' list.
My new daypack (a Deuter Trail 32, as you ask) does have an aperture for a hose and pocket for the reservoir, but I'd chosen to use the apace to store an iPad, with bottles of fluid in the two side pockets instead — and therefore out of reach when the pack is on my back. I have a water belt, but am reluctant to strap on anything else. Maybe it will be cooler next week, releasing me from decision making.
Another item on this list is getting smarter about orienteering. I've not used a compass or proper map on this walk yet. On Stage 1 I used screenshots of maps saved to my phone; on this second day I used paper versions of the same. The trouble with taking screenshots of the route only is that you lose sight of the bigger picture, and when you stray off the path, or are forced to change the route, you can stray off the map as well, making it harder to find your way back. These problems had already made themselves known on this walk, but the best illustration was still to come, on the paths above Buhler.
Unusually for Switzerland, the village didn't seem to have a natural centre. The arrangement reminded me of a typical small American town — just a main road with a few shops strung out along it, and a handful of curious locals sitting outside the coffeshop, staring at the stranger. Maybe there is more to the place, but I didn't have time to discover it. I hastened towards the footpath sign that pointed me along the tracks, behind the station, then off towards the hills beyond. Long story short: after climbing the steep track that led out of the town, past the painted panels and the hand-made sign to encourage pilgrims on the Via Jakobiweg — the path that stretches across Europe to Camino de Santiago in Spain — I found myself in an exasperating dead end, where I would waste nearly two hours wandering round in circles.
Before the trouble revealed itself, I found a bench to enjoy an ascetic lunch of pecan nut-butter on rye, blueberries and a boiled egg, swilled away with nearly a litre of diluted fruit juice. The fluid was badly needed; I'd been walking on empty for more than an hour. On the other wall of the valley, the path was clear — a pale grey line that vanished over the brow of the near hill before reappearing more faintly, snaking up a second hill in the far distance. There was something cartoonishly enticing about the prospect, but I wouldn't get to experience it. I missed the significance of the bulldozers visible lower down the closest hillside.
I soon set off again, pushing past an incredulous cow, but didn't get much further. The path vanished upwards into a small rutted slope and a few metres later, an electric fence. Beyond it, I could see another. This wasn't going to work. With no signs to guide me, I returned to the path and took the only other route available (not including the option to walk all the way down the hill to Buhler again). This meant creeping through a small farmyard while the sound of playful family chatter could be heard on the other side of a low fence. The possibility of hearing a shotgun being loaded proved to be an excellent performance-enhancing aid, and within moments I was through the other side of the yard and making my way down a dizzily steep farm track.
This soon became a proper tarmacked lane, and all seemed well. And then I saw it. Or rather, I didn't see it because it wasn't there. The path around the side of the steep hill ceased to exist. Instead, a gap of about 20 metres and a drop into space. The prime suspect, a big red bulldozer, sat and stared at me, without displaying the merest flicker of shame. Gah! I retraced my steps and found another path alongside a noisy stream, but this immediately led to nothing but a dense wall of forestry. No option but to climb back up the very steep lane and tiptoe rapidly through the farmyard again.
Back to my lunch bench for an emergency one-man conference. I would have to make my way back in the direction of the village, but seek out all paths on the way. And so I did, but each of the three or four exits came to nothing. They were either glorified driveways of private houses, or they looped round and led straight back to the path I was on. With a sense of bitter disappointment and failure, I realised I'd no alternative but to return to the village and find a bus or train to take me to the next village, or even all the way back to Appenzell.
I'd now been walking for four hours, but was only halfway to my destination. Four hours is roughly the estimated time for the entire stage, which made me feel a bit better. Too bad that I'd have to take the train to Appenzell, but at least I'd put in my shift. But at the bottom of the hill, just before reaching the village again, I came across a Wanderwerg sign I must have walked straight past earlier, without noticing. On the sign, someone had helpfully written the warning: Gesperrt ("Blocked"). At least it confirmed that I'd tried going the right way. A second footpath sign pointed to the right of the road I'd just descended. "Appenzell", it stated. For a few seconds, I wasn't sure how to react to this alternative path, as my head had started to attune to the decision to point myself at the station. But almost immediately, I'd made my mind up and headed off away from the village, and towards Appenzell.
The remainder of the walk was pedestrian. I tramped up a long but benign hill, through a straggly wood, and down the other side. Along a gravel path, round a corner, and onto a small metalled road with a sign telling me that Appenzell was just an hour away. By now I was tired, and ready to hit my destination soon. If I'd felt more sprightly I might have improvised a more adventurous route down to the town, but for a while I was happy with the lane. At least I was confident I would get there this way.
Around another corner and here, at last, was Appenzell. But down there, not up here. Confusingly, the closest sign said it was still an hour away, and this was at least 20 minutes on from the last 'hour to Appenzell' sign. I should have felt frustrated, but the view down into the valley was too spectacular to make any room for grumpiness. … a superb panorama with the town sprawled across the valley floor beneath the a wooded hillside and beyond, a formidable wall of rocky mountains, acting like a barricade to hold off Mondays and project deadlines. It reminded me of the Himalayas, and other locations suddenly jerked from long hibernation in the memory archive, where small towns lie low in just this way, hidden in deep valleys between towering folds of rocks. You can see where the creators of fantasy games and epochal 'sims' like Civilization get their inspiration from.
This story is almost over. For the final part of the descent I found a small but well-maintained path which wound me through a string of farmyards and alongside a small river for a while. It was still hot and clammy when I finally reached the outskirts of the town. I was badly dehydrated, with crunchy salt encrusted round my mouth. I spotted a gas station and bought a bottle of ice-cold grapefruit-and-water drink, too dry to even issue a thank you to the cashier. Oh my. I think I would trade that glass of '78 Penfold's Grange Hermitage, or even the Palmer tasting, for those 50 centilitres of life restoring fluid.
Final stats: Total duration, including stops: 7 hours 29 minutes. Total duration, not including stops: 5 hours 36 minutes. Distance walked: 25.61 kms. Ascent: 905 metres Descent: 1028 metres Heart rate: min – 73 max – 154 ave – 114.
********** Footnote: the Bühler merry-go-round:
The plan was to leave Horgen by 08:00. Waking at 6, this should have been a comfortable target, but of course I spent at least two hours doing things I could have done the night before, like preparing food, checking travel options and seeking out the Vaseline whose whereabouts had slipped from my memory's grasp after so little recent use.
Vaseline, you say? Yes indeed: preparing for this expedition had much in common with getting ready for a marathon. Clothes, footwear, nutrition, travel, route pondering and general staring into space. It was all a bit nostalgic.
Where had the tabernacle gone? I'd last dipped my fingers into the cool sacrament on Boston Marathon morning, more than four years ago. This gave me a clue, and I was able to rescue it from a bag of Boston remnants I'd spotted in a cupboard about a year ago. I'd forgotten the odd sensation of slathering the stuff in between toes and around heels, before pulling on socks – a step that didn't seem to complement the viscous coating of the skin. Standing up and feeling the gooey stuff squelch between the toes confirmed its wrongness, but we all know it's a necessary wrongness, like Nigel Farage, or HP Sauce on baked beans.
Still in the Boston groove, I wore my canary yellow Boston Marathon commemorative shirt for only the second time ever. The first  was the day after this year's event, when I got up early to go for a feeble jog. I don't usually go in for pointless symbolism but it was all I could think of doing in the aftermath of the bomb. The reason for choosing it on Saturday wasn't to continue the Vaseline precedent, but because it was the only long-sleeved light-weight wicking shirt I could find. It was going to be a hot day – over 30 degrees – and I knew that on the exposed hillsides I would soon frazzle under the unforgiving sun.
So in the end it was after 10 o'clock when I left. The result of my careful planning was a decision to drive to Trogen, the end point of the walk, park the car, and take a train to Rorschach via St Gallen. Most of the plan worked, but I'd forgotten that this weekend was the triennial Züri Fäscht, or festival, so the idea of driving through the city to head north east towards Trogen turned out to be a bad one. My usual short cuts were either closed to traffic or blocked by beaming, silent Swiss people politely waiting to be informed that the party could begin.
I got to Trogen at noon, and found a small, charming village with a splendid Italianate church and nowhere to park. The main car park in the village square had been commandeered by a raucous wedding party. As I slowed down to ponder what to do, an usher in an extravagant dress shirt tapped on my window to offer me a consolatory glass of Prosecco. I declined, but took the opportunity to ask where else I could leave the car. In impeccable English, he gave me directions. I suspect he was part of the population who had completed non-mandatory or university education. According to Wikipedia, this segment of Trogen's 1,668 inhabitants account for "about 74.8%" of the population. "About 74.8%"? If I didn't have more pressing tasks, like staring blankly out of the window, I would write to complain about this uncharacteristic lack of Swiss precision.
Successfully parked and packed, I headed for the tiny station and took the 12:32 to St Gallen. It was my first visit to this  fine looking town, though I squandered most of my 30 available minutes, first queuing for a train ticket, only to discover, when I got to the front of the line, that it was a cash machine. I then joined another queue at a window, before realising after a while that these people were buying cinema tickets. I concede, the trouble I had locating a train ticket and finding my way out of St Gallen station entrance hall made me question whether my navigational abilities were up to the task of the Alpine Panorama Trail. But I manfully persisted, eventually arriving in Rorschach at 13:30 – about 4 hours later than the initial schedule.
Emerging from Rorschach Bahnhof, you're greeted by the great blue expanse of the Bodensee, the massive lake that separates Switzerland and Germany. A wonderful sight in this light, the water dotted white with spots of distant yachts.
A stroll along the lakeside path would have been pleasant, but I should have been heading in the other direction. As I peered at my map, a kindly lady stopped to ask me where I was trying to get to. "Geneva", I replied. She hesitated, then walked away without another word.
The first steps of my journey took me past a rotating sculpture of a plump blue lady, looking strangely like the famous Niki de St-Phalle sculpture that hangs from the ceiling of Zurich Hauptbahnhof's cavernous entrance hall. HB has an official meeting place in the opposite corner of the station concourse, but people typically say: "Let's meet under the blue angel".
I crossed the busy road via the underpass, relieved to see the first sign for Route 3. For 500 metres or so I was led through quiet residential streets before taking a right up a steep side road, then a track between some large detached houses and out across a stretch of neatly cultivated farmland into open country. Stopping briefly to look back across the cornfields to the Bodensee, I was struck by the silence and tranquility of the scene. As always,  serenity makes one more conscious of chaos. I wondered what this small place, at the junction of Germany and Austria might have felt like 70 years ago. Standing on this hillside on a sweltering July afternoon in the early 1940s, staring across the lake to Germany on the distant shore, what fear and uncertainty would I be facing?
I turned to continue my journey.
The agricultural land eventually gave way to woodland, in the shade of which I stopped to adjust my backpack, slap on some more sun block and take a first glug of water. Then through the trees and down into the hamlet of Tobel, where I could stand on the bridge and watch a quaint rustic scene that seemed like something out of children's television. A couple sat quietly on a bench on the platform, waiting for a train that you suspected would never arrive. But that didn't matter. The point was the moment and nothing more. Under the strong afternoon sun, all was still and totally silent. Had I stood at that spot indefinitely, the sense was that the sun would have kept shining forever, with the hands of the station clock remaining motionless.
I didn't conduct the experiment, for fear I'd be proved wrong. Sometimes it's best to carry off an impressionistic hypothesis, rather than damage and devalue it by putting it to the test. Instead, I followed the road down to the left of the tiny station, and after a bit of head scratching, spotted a steep narrow path on the other side of the road.
As I made my way down, I exchanged beaming Grüezis with a mother and young daughter attaching balloons to a fence above a sign that wished Holger a happy 60th birthday. I remember thinking, 'I hope I reach my 60th, and I hope it will be as sunny as this'. I wondered if anyone would be attaching balloons to a fence in my honour. I doubted it.
Leaving behind the strange stillness of Tobel station, the trail led me through another patch of thick woodland where the path, criss-crossed with damp tree roots, offered the first mild hazard of the journey. Hardly treacherous, but as the first pangs of mild fatigue were appearing to displace my concentration, I had to watch my footing. Given the eerie torpor of Tobel, I couldn't rely on an ambulance arriving much before Christmas, though I consoled myself with the thought that if I did have to spend 6 months lying in the forest with a broken leg, surviving on a diet of leaves and slugs and rainwater, at least I had a couple of series of The West Wing on iPod to help pass the time, not to mention the entire Sherlock Holmes archive in audiobook format.
One of the causes of my earlier delay was fretting over what to listen to on my journey. Now don't get me wrong — I like a good cow bell as much as the next fellow, but I had to plan for the possibility of dong fatigue, as it were. So what to load onto the device? My podcasts of the moment include Scriptnotes and In Our Time, but I'd exhausted this seam and needed something  more elementary. But what? I pondered the question in silence for some moments, then without warning, my eyes shot open in wild excitement. Barely able to contain myself, I cried: "By Jove, I have it!"
And so it was that I'd  started listening to A Study in Scarlet over breakfast that morning. This was one of the few full-length Sherlock Holmes novels, and the one that had introduced him to the world. I'd read it before, of course, but more than 40 years ago, so I was able to enjoy it afresh. It was reaching its climax as I emerged from the woods and began another ascent. This was the theme of the opening stage of the Alpine Panorama hike — up and up, then up some more.
Reaching a farmtrack near the crest of the hill, I spotted a bench set against a dry-stone wall and headed for it. It was there for a reason. I was panting and sweating heavily, and desperate to rest. I was close to Heiden, my planned lunch stop, but the bench, with its superb views across the Bodensee, already a long way off and a long way down, was the ideal place to treat myself to a starter of boiled egg, blueberries and walnuts, washed down with diluted grapefruit juice.
What a meal and what a moment, enjoyed as the wretched Jefferson Hope's backstory reached its climax, revealing him to be not just the dastardly murderer but also a pitiful victim of past injustice himself. I marvelled at the richness of the narrative, and was reminded just how skilled a story teller Conan Doyle was.
It was hard to get off that bench, but eventually I upped and moved the kilometre or so to Heiden. The route took me past the toytown train waiting in the toytown station and along Dorfstrasse. How odd to be suddenly clumping along the high street with the Saturday afternoon shoppers, just minutes after the rustic idyll of my bench with its expansive forest and lake vista. Even odder to find myself in the supermarket checkout queue with backpack, floppy sunhat and hiking boots, waiting to pay for my smoked salmon bagel and drink. I had food with me, but needed an excuse to grab a few minutes out of the heat.
A little further on, I chatted briefly to a young woman at her easel, painting the church. Then it was a sharp right up a very steep residential road, where the smell of barbecues and sound of party chatter made me question what I was doing. Everyone else is having fun, and here I am, on the hottest day of the year, walking to Geneva.
It was the low point of my day.
I still had my unopened bagel and bottle in awkward grasp, and was desperate to process them, but found nowhere to sit until I reached the very top of the hill where at last, I was able to use a fire hydrant to quench my thirst.
The next long stretch was uphill again, including an extended trek across a pathless field into a pathless wood. I was convinced I must have strayed a long way from the route, but no, amazingly, my instincts (or good fortune) had dragged me in the right direction — and there was the next yellow sign to prove it.
Briefly, I thought I might have been entering a state of mild delirium as Intermittently, I would catch a strain of laughter on the breeze without seeing where it could be coming from. But then eventually, I saw a sign saying Naturfreundehaus, and passed a sizeable wooden building where a big bunch of giggling teenagers were bobbing about in the garden. I'd never come across these 'friends of nature' before but I'm guessing it was something like a youth hostel.
At last, a downhill section, including a muddy, waterlogged stretch through a wood that began and finished with police-style incident tape and signs that said "No access". But with no alternative to the blocked path provided, I was very un-Swiss and disobeyed the instruction.
At the foot of the hill came a tarmac road and bus stop, where a bus was due in 4 minutes. Yes, I checked. But I strode manfully on, ignoring the temptation to hitch a ride to  Rehetobel, the next town in my way,
Sometimes the signs vanish, and you have to take a punt. This I did once the tarmac novelty wore off. Leading sharply down into a wood on my left was a small lane with nothing to indicate it led anywhere. As I dithered, a bunch of confident cyclists zoomed into it and vanished round the corner. This persuaded me it had a purpose, so I followed them.
The lane led into a neat residential road with a scattering of houses looking out across a valley. High above me, on the other side of the gorge, were two villages. The one to the left had an Italianate church that looked slightly familiar. For the first time today, I took out my phone and switched the navigation on to confirm it. Yes, indeed. I was looking up at Trogen, my destination.
As the crow flies, it was close. But as the old guy totters, there was still a way to go – and it was nearly all uphill.
I first had to dip down off the road onto a narrow track. The yellow waymarker had been clear enough, but the path soon ran out, leading me into someone's garden where a man was trimming the edge of his small lawn with some ancient hedge clippers. He glanced up at me, but said nothing.
Retracing my steps, I took an equally unpromising path into the next garden. I wandered round a corner, and nearly collided with a small dining table at which a charming lady sat with a large bowl of salad and a bottle of Chablis in a glass ice bucket. In a movie, this experience would have ended differently. But even in reality, she managed to be convivial. She was quite unfazed by my sudden appearance, so I guess I wasn't the first uninvited visitor she'd had. She laughed pleasantly and agreed that the path was confusing.
My first garden gatecrash had been correct, so it was back past the indifferent lawn enthusiast and through a gap between two hedges, where another yellow diamond pointed me down a rocky track to the floor of the gorge. Here, alongside a lively stream, was surely one of the most remote restaurants you're likely to find — or not find. Chastenloch is inaccessible by car, and getting there would require at least 20 minutes of scrambling down a difficult stony path, not to mention the preliminary garden creeping — so you'd better have a reservation before you arrive. But what a delightful setting. I wondered how many marriage proposals had been offered here, and how much grimmer the scrabble back up the hill would be if the answer was "Nein".
There is, natürlich, another escape route. If there wasn't, I wouldn't have been passing by. Here was a smoother walk up a well maintained path, but much steeper and longer. Worse, it was one of those deceptive hills that trick you into thinking you've reached the top, only to find another upward stretch awaiting you.
I didn't hit the final peak until arriving back in Trogen village square. I was dead on my feet – a combination of the heat, the hills and a lack of fitness. It was more than 8 hours since I'd boarded the train to Rorschach. It seemed like a very long time since the educated chap in the dress shirt had offered me a glass of Prosecco. Now he is gone, just as my earlier self is gone. The square is deserted and silent, with the only evidence of earlier festivities, a flickering wisp of bunting nailed to a telegraph pole.
Something's afoot. Me.
For 3½ weeks I've been eschewing alcohol and chewing vegetables instead. Leafing through my vegetarian cookbook a month ago, I realised that my quarterly campaign to make a public fool of myself was long overdue. Or was I just sensibly easing my way to twice-yearly shame, on the way to a more rational annual humiliation?
This time at least, I was able to negotiate a one-month news embargo. I should have done this before. When purchasing previous metamorphoses, there should have been a nasal voice at my shoulder asking: "And would you like to include dignity protection with your transmutation, Sir?" I didn't quite make it to the month because I want to write something about a walk I had on Saturday. I hope to continue it next weekend, and don't want to get behind on the reports.
The Alpine Panorama Trail is number 3 of the 7 designated national trails that stretch from one of Switzerland's many international borders to some other one. Germany and France, I think. Or is it Austria and Italy? No matter. I'll find out. Then there are the 62 regional routes and around 250 official local trails. These are just the classified, numbered paths; there are thousands of unnumbered local tracks to act as capillaries linking and criss-crossing these arterial routes. Sorry to sound like a brochure, but this country is truly a walker's paradise.
Which makes me wonder why I've not taken greater advantage of it. I've done plenty of local ambling — there's a beguiling wood at the end of my road. It's small, but  still easy to get lost in: the paths refuse to stay in the same place from one visit to the next. Then up behind my apartment block, on the other side of the A3 Autobahn is a much bigger wood with its own lake and Vita Parcours. Beyond that, the Heidi-like landscape of rolling green hills and wooden chalets that stretches on for miles. In the other direction is the the lakeside path, particularly lovely in summer when the sun spins an ethereal sheen across the surface, all the way to Zurich, just visible at the far end, about 8 miles away. The water is as clear as glass, but under the sun it finds a rich blue gloss. Add the yachts with their brilliant white sails, set against the vivid green backdrop of hills that surround the lake, and the scene gets an innocent, almost dreamlike quality — untroubled, like something you'd find in a child's painting.
I've wandered through one or a combination of these places many  times, often early in the morning or on a weekend  afternoon, nervously counting down the minutes to QPR's next televised embarrassment. But I've not strayed much beyond.
Then recently, I discovered the FitBit. This strip of plastic with its admonitory lights has been a good ally in my quest for healthier living as it discreetly monitors activity, weight and sleep, and generally bullies me into getting off my backside.
After 3 weeks of daily ambling round the locale, I realised I needed a break in the routine. As I've done many times before, I consulted the brilliant Wanderland.ch for inspiration. (Note – If you put Wanderland into Google translate, you get the curious suggestion of "migratory agricultural". Roll the translation dice again and the more reasonable "hiking country" appears. That's more like it.) Instead of choosing a handy local route to stretch the legs, it was clear that really, I should be aiming to walk from end of the country to the other. Sometimes the big ideas appeal more than the small ones, which explains the trouble I've frequently got myself into over the years.
All seven national routes look interesting, but after much calculation I finally settled on number 3, the Alpine Panorama Trail, which offered to convey me 510 kilometres, from the German border in the north east corner, to Geneva in the southwest. Of course, there's no chance of walking the entire length, or certainly not this year, but I'll knock out the first few stages at least, and see how far I get.
And in the spirit of my resolution to keep blog posts to less than 1,000 words, that's where I'll leave this one. But don't feel too relieved – the walk report will appear tomorrow.